Endorsed by Shark Tank's Kevin Harrington, "Change Short & Simple" by Christopher James Masiello is released, a strategic, transformative guide to developing change intelligence and overcoming fear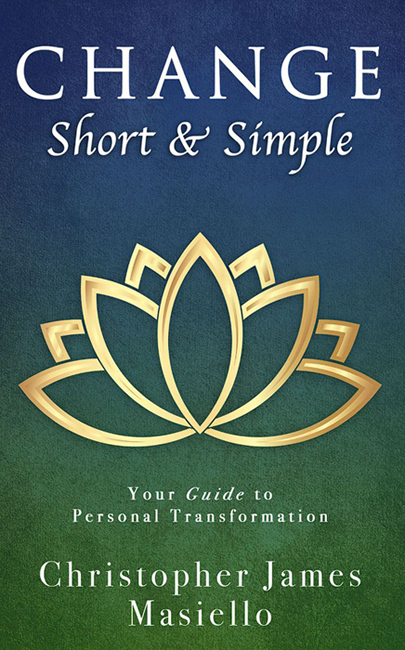 "Change Short & Simple: Your Guide to Personal Transformation" by Christopher James Masiello has been released worldwide. This 108-page guidebook, which has achieved bestseller status as #1 in Amazon's Personal Transformation & Spirituality category and #2 in the Spiritual Growth Self-Help category, is an inspiring, action-oriented approach to both creating positive change and learning to accept the changes in life we cannot control. The book also achieved bestseller status on barnesandnoble.com, and was ranked #6 in the Wall Street Journal's "Nonfiction E-Books" category.
Readers will come to understand why change causes fear, how to plan for the unknown, and how to take critical forward steps for affecting major changes they would like to see in their own lives. Through the power of self-discovery, modern brain science, and clear guidance, Masiello lays out a series of exercises, as well as perspective-building ideas, that reframe personal growth into an achievable process.
Endorsed by Shark Tank's Kevin Harrington, the book addresses age old fears that accompany changes in life, business, relationships, and beyond. These fundamental challenges are universal, and this "owner's manual for change" tackles them with impeccable clarity.
See Harrington's endorsement here: https://www.youtube.com/watch?v=VpqqkH-COlI.
Change Short & Simple: Your Guide to Personal Transformation (ISBN: 9798986139289) can be purchased through retailers worldwide, including Barnes and Noble and Amazon. The paperback retails for $28.95. Wholesale orders are available through Ingram. Review copies and interviews are available upon request.
From the back cover:
"Change Short & Simple guides us through not only navigating change but also how to invite, accept, and encourage change in our lives." – Kevin Harrington, Original Shark from ABC's hit TV show "Shark Tank" and Bestselling Author
"An insightful, digestible, and actionable guide to changing not only your lifestyle but the mentality which dictates it." – J.J. Hebert, USA Today bestselling author
Overwhelmed by the need to make changes in your life? Constrained by thinking and habits that no longer serve you or a view of yourself that gets in the way? In this wise and action-oriented book, Chris Masiello presents an array of strategies to shift your perspective on how to address, accept, and leverage change. You will find practical insights on the relationship between change and the human psyche, step-based guides on how we affect change and vice versa, and the instruction to put ideas into practice. If change doesn't stop, we can at least plan for it using Masiello's astute teachings in Change Short & Simple.
About the author:
Chris Masiello has built a successful, nearly forty-year career, spanning a variety of nationally recognized businesses in the real estate and financial services sectors, accounting for over two billion in annual sales. He continues to lead a portfolio of successful companies.
Chris is also a recognized expert in business and a personal empowerment speaker. News sources such as ABC affiliates, Wall Street Journal, and others frequently seek Chris's insight, and he has received numerous industry achievements including recognition as one of the most influential trendsetting leaders in the real estate and home services industries.
About MindStir Media:
MindStir Media LLC is an award-winning book publisher. To learn more about publishing a book with MindStir Media, visit http://mindstirmedia.com or call 800-767-0531.
Media Contact
Company Name: MindStir Media LLC
Contact Person: Jen McNabney
Email: Send Email
Phone: 800-767-0531
Address:1 New Hampshire Ave Suite 125
City: Portsmouth
State: NH
Country: United States
Website: https://mindstirmedia.com/