Stranded in Snow Shoe by J. Arthur Moore is a Compelling Coming of Age Story about the Power of Friendship in Overcoming Challenges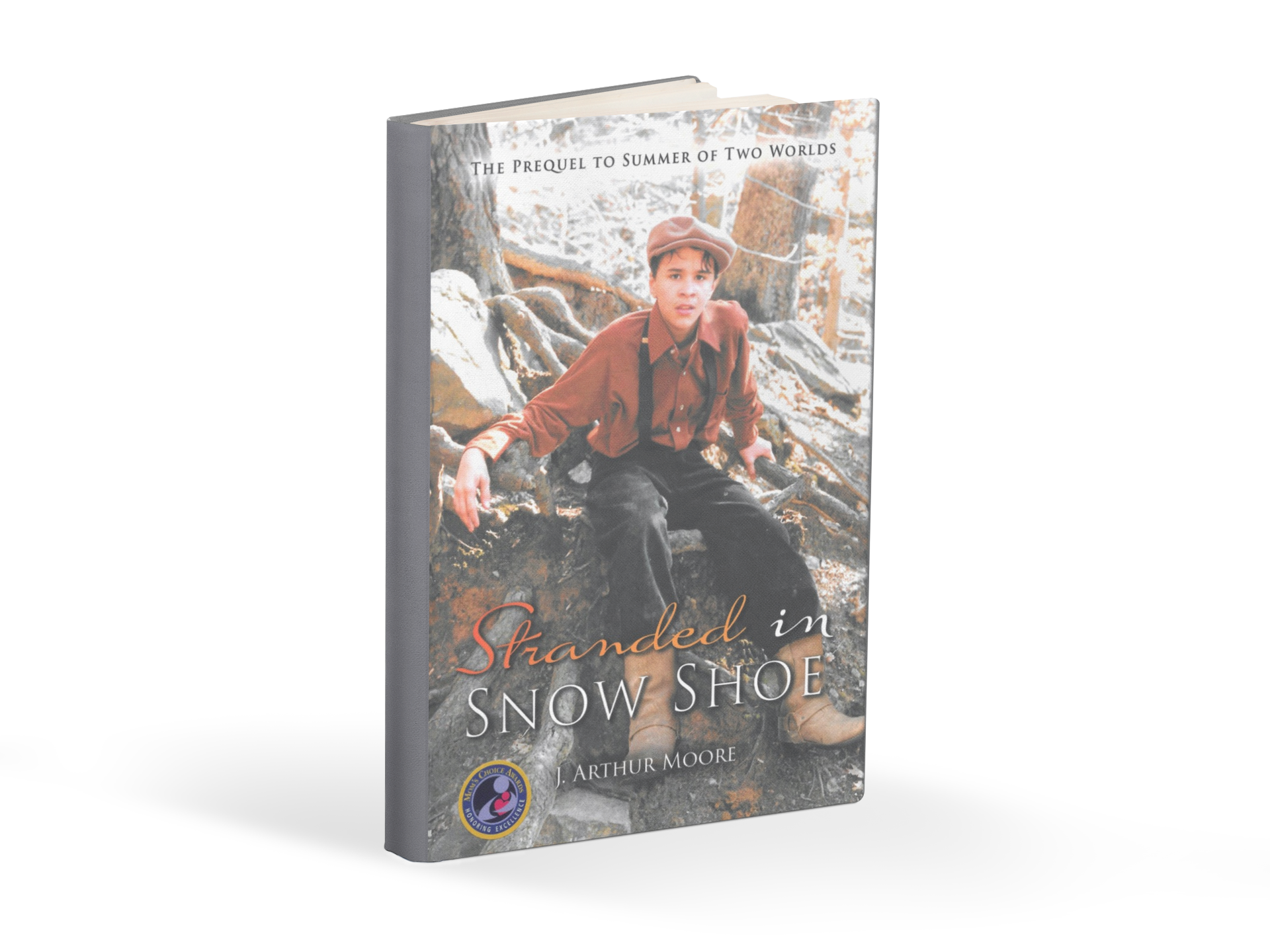 J. Arthur Moore's Stranded in Snow Shoe is the story of a friendship and a search to reconnect a boy to his family.
J. Arthur Moore spins a tale of adventure, exploration and camaraderie in the riveting middle-grade historical fiction novel, Stranded in Snow Shoe. As the prequel to Summer of Two Worlds and its follow-up, Twelfth Winter, the novel unfolds in the smoky hills of West Virginia in 1880, in the small town of Snow Shoe. Young Scot Robinson is in search of his Uncle Hank Fillmore who is supposed to care for him until he can join his pa, a government surveyor, working somewhere in the west. Hank, an unkown train robber, is nowhere to be found and unfit to raise Scot as he waits for news from his father. Scot must turn to locomotive engineer Jay Miller for help. Along the way, the two form a deep friendship that will stay with him for years to come until, one day, he steps into the role of guardian himself.
"As with all my stories, I write as the story comes to mind as I live the character's life in my mind's eye," says author J. Arthur Moore. An acclaimed, award-winning author who draws inspiration from history, teaching and personal experience, Moore carefully blends fact and fiction to create spellbinding works full of wonder and excitement.With Stranded in Snow Shoe, his goal was to pull readers into a heart-felt story and give them a reason to invest in what happened next. "It is my hope that young readers will experience the joy and enrichment of friendship as they share Scot's experiences."
The book weaves together several standout features that put it in a class of its own. The story is filled with vivid descriptions of the landscape; but, even more impressively, Moore is able to imbue Snow Shoe with a sense of character that lives beyond physical descriptions or a quirky local dialect; it lives in the spirit of the people there and in the heart of the story. Scot's journey to find his place in Snow Shoe becomes a thematically rich account of what family looks like in this place at this time. It's the kind of story that you can't wait to see brought to life on the big screen despite how easy Moore makes it for us to visualize while reading. Themes of friendship, family, loyalty and courage tie the work together in a memorable way, showing that life, no matter how challenging, always finds a way to continue.
Moore's work has received positive reviews from well-renowned literary organizations, authors, and reviewers around the world. Reviewer Kimberlee J. Benart writes, "The characters are cleanly drawn with emotional depth…[The book offers] a wonderful tale of individual growth and family love."
Stranded in Snow Shoe is a riveting piece of historical fiction. Available for sale on Barnes & Noble, Amazon, Target and other online and independent bookstores, readers who enjoy period pieces are encouraged to purchase a copy today: https://www.barnesandnoble.com/w/stranded-in-snow-shoe-j-arthur-moore/1141609456?ean=9781952874680

About the Author
A graduate of Jenkintown High School, just outside of Philadelphia, Pennsylvania, J. Arthur Moore attended West Chester University, earning a BA in English. Upon graduation, he joined the Navy and was stationed in Norfolk, Virginia, where he met his wife to be, a widow with four children. Once discharged, he moved to Coatesville, Pennsylvania, began his teaching career, married and brought his new family to live in a 300-year-old farm house in which the children grew up and married, went their own ways, raised their families becoming grandparents themselves.
Retiring after a 42-year career, Mr. Moore now lives in rural Lancaster County, Pennsylvania, where he enjoys generations of family, time with model railroading, time to guide his writings into a new life through publication; and participation in a local model railroad club, volunteering at Hopewell Furnace NHS, participation in Civil War events, and helping his Amish neighbors with their travels.
To learn more, please visit: www.jarthurmoore.com
Connect with J. Arthur Moore on Social Media
Facebook: https://facebook.com/profile.php?id=100049433417774
Twitter: https://twitter.com/JArthurMoore
Youtube: https://www.youtube.com/channel/UCRksYluBapnGETvbivsZZcw/videos
Media Contact
Company Name: Author News Network
Contact Person: Media Relations
Email: Send Email
Country: United States
Website: authornewsnetwork.com