CryptCard Wins Double Hackathon in Three Months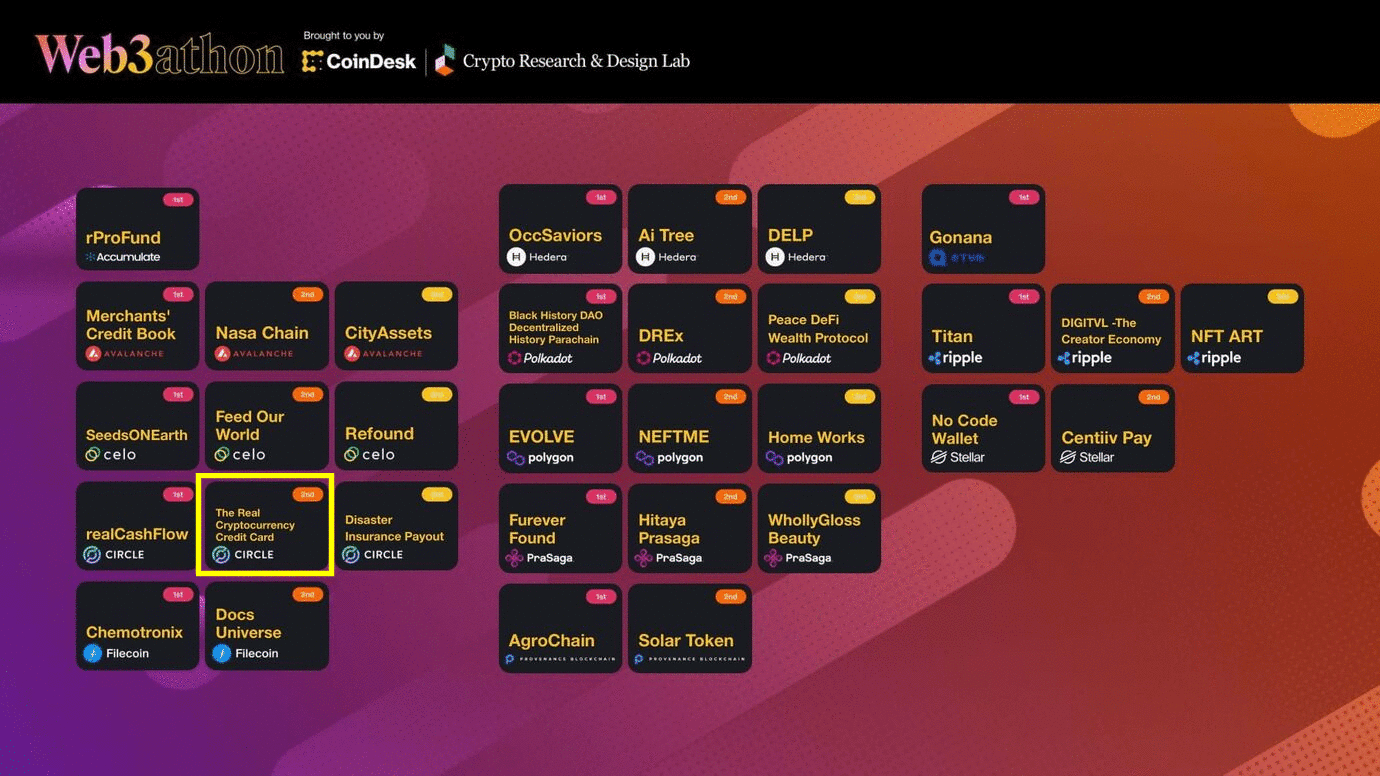 CryptCard wins second prize in the Web3athon hackathon after they won in the Polkadot North American hackathon less than three months ago.
CryptCard is excited to announce that they have won another prize in a Web3 hackathon. This time, it's a second prize in the Web3athon hackathon under the Circle (USDC) category. CryptCard's project was entitled "The Real Cryptocurrency Credit Card." The hackathon featured over 200 participants worldwide in different categories.
This is CryptCard's second victory in three months, a sign that there's a compelling demand for cryptocurrency credit cards. In the previous hackathon, they also achieved second place in Polkadot North America hackathon. CryptCard's entry focused on using its cryptocurrency credit card platform to transact in USDC stablecoin without the need to pay for gas fees. Gas fee is a common charge paid by cryptocurrency users when they perform transactions on the blockchain. Enabling gasless transactions is an advantage that CryptCard has against other crypto debit cards in the market.
USDC is a cryptocurrency issued by the Circle Internet that is pegged to the US dollar. It's undergoing major developments intending to strengthen its market position. Currently, it's the second-largest stablecoin with plans to expand to five new blockchains, thanks to Circle's recently unveiled Cross-Chain Transfer Protocol.
It will start circulating on Polkadot, Arbitrum One, NEAR, and Optimism chains by the end of this year, with plans to enter the Cosmos ecosystem sometime in early 2023. Circle often releases its annual audits and is regulated under U.S state law.
Web3athon is a leading blockchain hackathon organized by the Web3 Foundation, which aims to promote and advance the development of the decentralized web. It is dubbed a hyperlocal, people-first crypto hackathon with the mission to make Web3 a place for everyone.
This year's competition began on June 9, 2022, at CoinDesk's flagship Consensus conference and concluded after 14 weeks of building and coding. 32 winners and 15 standouts were announced at the company's I.D.E.A.S Conference on October 19th. Over $800,000 in prizes were split among its winners.
The hackathon event was brought together by a multi-chain effort of 17 sponsors, including Filecoin, Circle, Stellar, Avalanche, Celo, Polkadot, Prasaga, Aleo, Acala, Polygon, Ripple, Accumulate, Provenance, Hedera, Boba Network, Qtum, and Blockdaemon (API).
This year's conference focused on helping the crypto industry to prioritize building MVP (minimum viable product) use cases for hyperlocal communities. According to the event organizers, blockchain possibilities can only be realized if we collectively decide that the technology must serve the needs of humanity.
Everyone in CryptCard wishes to thank the event organizers, judges, and participants for this making this hackathon a remarkable experience. They are honored by the award and will continue to work towards its goal of becoming a leading global cryptocurrency payment processor. With their platform, they aim to simplify, secure, and make credit accessible to anyone, anywhere.
Media Contact
Company Name: CryptCard Inc.
Contact Person: Melvin Wong
Email: Send Email
Phone: +1 (323) 515-1858
Country: United States
Website: https://cryptcard.cc