Food Vacuum Laminated Packaging – Foodstuffs vacuum packaging
Foodstuffs vacuum packaging, foodstuffs vacuum packaging film for the body of high-barrier vacuum packaging, is in a vacuum state to seal the product between the transparent film and the tray. It can maintain the color, aroma and tenderness of the product, and has a better three-dimensional display of the sticker packaging and the dual effect of vacuum preservation protection. Body-packing can be widely used for raw beef, fresh seafood, fresh sea fish, fresh steak, fresh chicken legs, fresh duck neck, fresh fish pieces, fresh shrimp, tuna, fresh shellfish and other fresh meat products, as well as roast duck, roast chicken, cooked meat, chicken legs and other cooked meat products.Food paste body vacuum packaging features are as follows.
1. Vacuum full sealing type paste body packaging, locking the natural freshness, aroma, color and juice flavor of food, to achieve the original taste effect.2. With high barrier vacuum packaging film, can block oxygen water gas, etc., in the low temperature environment to inhibit the reproduction of aerobic bacteria, to extend the freshness and shelf life of food.3. Prevent ice crystal ice on the surface of food during refrigerated transportation, prevent food from drying and cracking due to stabbing.4. Combination packaging of multiple products, consumers can open and eat, such as the remaining food in the package can be put back into the refrigerator to continue to refrigerate for later consumption, health and convenience.
Food vacuum packaging film is made by co-extrusion process, with excellent transparency, stretching and puncture resistance, and excellent water vapor and flavor barrier, which can effectively extend the shelf life of the products. It is convenient and hygienic for consumers to unpack and consume part of the product, and then put the remaining product back into the refrigerator for further refrigeration. Mainly used for fresh vegetables, snacks, fish and shrimp, poultry, cold meat vacuum packaging, greatly improve people's quality of life.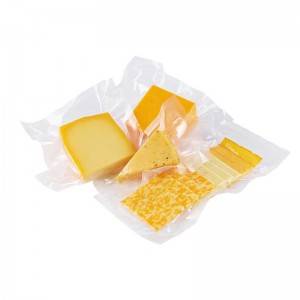 source:https://www.boya-packing.com/news/food-vacuum-laminated-packaging/
Media Contact
Company Name: Yixing Boya New Material Technology Co., Ltd.
Email: Send Email
Phone: 0510-87119167
Address:Beitou Industrial Park, No.10 Keji Avenue
City: Yixing
State: Jiangsu
Country: China
Website: https://www.boya-packing.com/