New book "12 Sales Myths" by Cameron Embers is released, a modern approach to sales that focuses on getting better clients and staying out of one's own way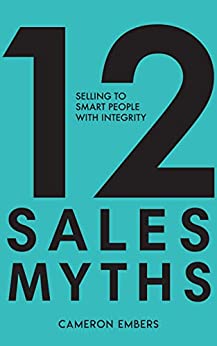 "12 Sales Myths: Selling to Smart People with Integrity" by Cameron Embers has been released worldwide. Ranked as Amazon's #1 bestseller in the "Management" category, this 114-page business development book tackles commonly held misconceptions about the sales process, the role of a salesman, and what it means to create satisfied customers. By breaking down these myths and providing actionable alternatives to long-held, ineffective beliefs, Embers has created a guidebook for the modern sales professional that emphasizes client needs, nuanced strategies, and ethical practices that build relationships and create wins for everyone involved!
The author's own experiences as a self-made entrepreneur, as well as years of refining processes through study and careful observation of client behavior, come together in this tactical and empowering book that provides valuable strategies for any industry or business role. In straightforward, no-nonsense language, Embers dispels the myths that make sales conversations feel coercive and unwelcome, replacing them with an honest, empathetic approach that puts the customer first – and leads to bigger and better sales as a result.
12 Sales Myths (ISBN: 9798986061443) can be purchased through retailers worldwide, including Barnes and Noble and Amazon. The paperback retails for $14.96. Wholesale orders are available through Ingram.
Learn more at https://cameronembers.com
From the back cover:
"Anyone who works in sales, or has been sold to, needs to read this book. Cameron Embers merges effectiveness with integrity, delivering high-power sales performance tactics that will be a breath of fresh air for both salespeople and their customers."– Kevin Harrington, Original shark from ABC's Shark Tank, Inventor of the Infomercial, Over $6 Billion in Sales
"Cameron Embers turns conventional sales wisdom on its head and helps you reframe the entire process. The result is better clients, more profits, less burnout, and greater satisfaction for everyone." -J.J. Hebert, USA Today bestselling author
Better clients = a better life. Better clients understand the value of your work, pay faster, and are enjoyable to work with. But how do you get them?
It's easy to sell to bad clients. All you have to do is lower your standards enough to match what they want.
The best clients in the world are skilled, smart, and decisive. They're looking for confident A-players who can bring them actual value. And they're looking for people who don't behave how most business owners and salespeople think they should.
Twelve myths stand between you and better clients.
About MindStir Media:
MindStir Media LLC is an award-winning book publisher. To learn more about publishing a book with MindStir Media, visit http://mindstirmedia.com or call 800-767-0531.
Media Contact
Company Name: MindStir Media LLC
Contact Person: Jen McNabney
Email: Send Email
Phone: 800-767-0531
Address:1 New Hampshire Ave Suite 125
City: Portsmouth
State: NH
Country: United States
Website: https://mindstirmedia.com/