Kiki Freeman Dominates Luxury Real Estate Market, Serves A-List Clientele With Unrivaled Expertise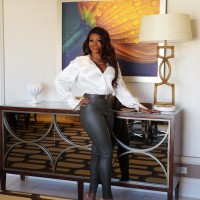 With the luxury real estate market growing more cutthroat every day, it is becoming increasingly challenging for investors, buyers, and sellers to land the best deals. Seeing the gap, Kiki Freeman has made it her mission to help her clientele navigate the luxury real estate industry. Backed by almost two decades of experience in the landscape, the expert has gained the trust and confidence of A-listers and investors across the globe.
Kiki Freeman is known for assisting buyers in purchasing the best real estate on the market, helping developers with selling or pre-selling upcoming properties, as well as funding real estate development goals. The mogul and her team serve ultra-high net worth individuals with liquid capital, entrepreneurs, oil magnates, politicians, celebrities, and many other A-listers. Kiki helps her clients access sought-after properties and resources detailing market data, market performance, and market analysis, helping them make the best decision to guarantee exponential returns. Without such resources, Kiki shares that clients are more vulnerable to fraud, may second-guess the actual value of their properties, or end up wasting time and resources. She has made it her mission to help her clientele avoid such roadblocks.
Kiki takes her clients through a process involving specific steps to success, including studying their location, knowing one's personal financial capability, contacting bankers to verify ease of disbursement, and consulting two to three barristers before submitting an offer.
"I have been a licensed agent for 16 years," said Kiki. "My career started in South Carolina. Being a veteran, I have a great deal of experience with VA mortgage loans and the underwriting process. During my seven years in SC, I assisted developers in selling as the lead listing agent. During this time, I moved to Los Angeles. While in LA, I had the opportunity to work alongside many high-end agents of Selling Sunset and Million Dollar Listing. I was able to obtain a vast amount of knowledge in successfully marketing luxury real estate along with high net worth clients," she added further.
Getting her hands on the best listings in the luxury real estate market, Kiki absorbed every piece of knowledge like a sponge and eventually became an unrivaled expert herself, trusted by some of the most notable developers and investors in the scene. Eventually, she pivoted her niche to commercial real estate, but after five years and much success, she decided to go back to luxury home sales, this time focusing on property development. Delivering unparalleled services and expertise, Kiki soon gained the trust of more high-end clients, expanding her luxury clientele to include more entrepreneurs and buyers looking at real estate as long-term investments.
"I can most definitely relate, as my first introduction to real estate over 16 years ago stemmed from the desire to use real estate as a tool. Fast forward to the present, coming from a place where buyers and sellers have a vast amount of resources to assist with the home buying process, I greatly empathize with my clients on finding more ways to streamline, be more effective and access more housing," Kiki explained.
Media Contact
Company Name: Sowa Marketing Agency
Contact Person: Aidan Sowa
Email: Send Email
Phone: 401-219-4207
Address:131 Chimney Rock Drive
City: North Kingstown
State: Rhode Island
Country: United States
Website: www.sowaagency.co