Vacuum Cleaner Market To Reach $26.4 Billion By 2030, Due To Paying More Attention Towards Cleanliness And Hygiene To Maintain Sense of Safety in Private And Public Spaces | Grand View Research, Inc.
According to a new report published by Grand View Research, the emergence of robotic vacuum cleaners, which can clean an area without human intervention, is also expected to work in the market's favor, driving the vacuum cleaners industry growth.
Vacuum Cleaner Industry Overview
The global vacuum cleaner market size was valued at USD 11.47 billion in 2021 and is expected to reach USD 26.4 billion by 2030 at a compound annual growth rate (CAGR) of 9.8% from 2022 to 2030.
Reduction in the time left for doing household chores due to the Work from Home (WFH) model is one of the key factors driving the demand for vacuum cleaners in the residential sector. Changing lifestyles, high disposable incomes, a growing working population, rising purchasing power, and ease of usage are other significant factors catalyzing the market's growth worldwide. The emergence of robotic vacuum cleaners, which can clean an area without human intervention, is also expected to work in the market's favor, driving the market growth. For instance, in April 2022, Xiaomi. launched a new sweeping robotic vacuum named Mijia, which helps deep clean and remove tough stains without human intervention. The device controls through Xiao AI voice commands or the Mijia app. With the help of this app, the user can connect the robot vacuum to other smart home devices.
Gather more insights about the market drivers, restrains and growth of the Global Vacuum Cleaner Market
Modern-day vacuum cleaners serve as a time-efficient and convenient solution to most cleaning tasks. The demand for all-sized innovative cleaning devices is soaring, encouraging manufacturers to develop products featuring the latest technology. For instance, in February 2022, Travelodge, U.K.'s largest hotel brand, partnered with Killis, a cleaning equipment manufacturer, to introduce an innovative robot vacuum cleaner, "robovac buddy," in their hotel. The robot has advanced features and the latest technology inbuilt, which would help the housekeeping team to clean the room thoroughly, including under the bed, public spaces, hotel hallways, and bar cafes. Besides, in September 2021, realme., a Chinese smartphone company, launched two new smart technology vacuum robots, "realme tech-life robot vacuum" and "realme tech-life handheld vacuum." Both devices have advanced cleaning features with a LiDAR navigation system for effectively cleaning and mopping the floor. They can also be connected to Alexa or Google assistant and are voice-controlled. Moreover, companies are focusing on elevating the cleaning experience through digital capabilities with personalized recommendations and smartphone app-based cleaning solutions.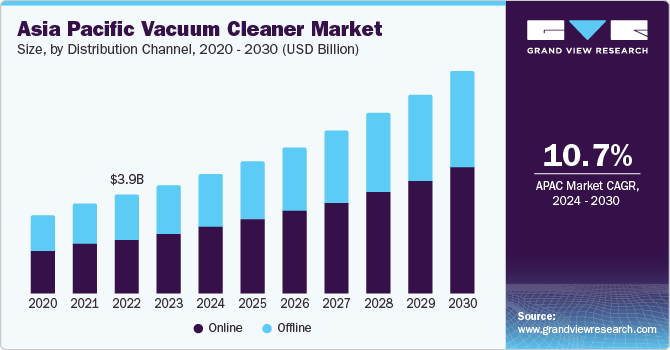 An exponential rise in demand for vacuum cleaners was observed in both the residential and commercial sectors in 2020, chiefly owing to the heightened need to maintain hygiene in hospitals and homes amid a surge in COVID-19 cases. Several companies have reported an increase in revenues in these sectors, whereas the demand for vacuum cleaners in the industrial sector witnessed a decline owing to the closure of industrial units globally. The increased influence of social media and online sales platforms has emerged as one of the most important growth drivers of the market. Social media platforms have been instrumental in increasing awareness about the need to maintain hygiene along with rolling out information about technologically advanced products and new launches. For instance, in February 2022, Dyson, a Singapore-based technology company, launched Dyson V12 Detect slim vacuum with cord-free laser detection technology. The device has a green laser diode and an inbuilt LCD screen to detect dust. It also has a conical brush bar that helps clean the elevated buttons and door handles and sanitizes surfaces, vital in preventing COVID-19 transmission.
The vacuum cleaner industry is undergoing significant changes, driven by changing customer dynamics and innovative technologies. Cleaning is becoming smart with the implementation of smart applications and robotic technologies to create new value from data emerging from different industry verticals. Apart from digitally enhanced products, companies are focusing on developing sustainable products with low emissions and noise. For instance, in July 2021, Hencon BV, a supplier of mobile equipment for heavy industries, launched "EVY," a sustainable smart cleaning vacuum cleaner to clean the pot room. The device has a suction working pressure of 0.3 bar with a 1.2 m3 hopper capacity, and the dust collected and separated with a very fine filtration is then ready for re-use. It ensures that it delivers a healthier, environmentally friendly, and cleaner surrounding. Furthermore, to capitalize on the sales opportunity during the pandemic, several key players have introduced products such as steam cleaners that would be used to disinfect surroundings. The introduction of these products helped companies to increase their revenues.
Vacuum Cleaner Market Segmentation
Based on the Product Insights the market is segmented into Canister, Central, Drum, Robotic, Upright, Wet & Dry & Others
The development of canister vacuum cleaners equipped with a HEPA filter, which have a significantly low risk of causing pulmonary side effects such as allergies and asthma, is expected to work in favor of the segment's future growth prospects.
The robotic segment is expected to witness an increase in demand over the next few years. New cleaning requirements and demands have emerged in response to the COVID-19 pandemic to free up the human workforce so that they can attain other duties, especially in hospitals. Such demands have necessitated that the commercial sector adopts autonomous or robotic vacuum cleaner. Features such as automatic charging, smart home trend, and voice-activated commands powered by digital voice assistants such as Amazon Alexa and Google Assistant are attracting residential clients and end-users.
Based on the Distribution Channel Insights the market is segmented into Online and Offline
The online distribution channel segment captured a revenue share of over 56.0% in 2021. Since cleaning became an essential part of the daily routine across all application sectors, companies moved to sell their products virtually. The virtual product demonstration and selling process contributed profoundly to the segment's growth in 2020 and is expected to remain a key contributor in 2021 as well.
Though the revenue for offline distribution channels declined in 2020, several companies opened new distribution centers to broaden their regional presence and standardize supply chain activities.
Based on the Application Insights the market is segmented into Industrial, Residential, & Commercial
The residential segment dominated the vacuum cleaner market and accounted for a revenue share of over 46% in 2021. The implementation of the WFH model across regions has confined people to their homes, necessitating the timely management of daily routine tasks. This has increased the demand for home appliances, especially cleaning equipment.
The commercial sector, the hospital segment witnessed promising growth, chiefly owing to the labor shortage in hospitals and the need to maintain hygiene. Moreover, the rising need to keep hospitals clean to avoid cross-contamination and infections and maintain a healthy environment for the medical staff, patients, and visitors is anticipated to drive the demand for vacuum cleaners.
Based on the Regional Insights the market is segmented into North America, Europe, Asia Pacific, Latin America & Middle East & Africa
Asia Pacific dominated the market and accounted for a revenue share of 31.7% in 2021, with China being one of the prominent markets. The strong presence of regional companies, availability of low-cost products, and high purchasing power of consumers are some of the key factors driving the demand for vacuum cleaners in the region.
The sales of vacuum cleaners are expected to elevate globally in the near future, especially in Europe, due to the ease of lockdowns and opening of academic institutions in major parts of the region.
Market Share Insights
April 2022: Panasonic Holdings Corporation, which provides consumer electronics products launched "MC-YL633," a dry vacuum cleaner for convenient cleaning solutions.
March 2022: ECOVACS, a Chinese robotics company, launched its new "DEEBOT X1 OMNI," a robotic vacuum cleaner with a natural language processing technology that takes direct command and speech without any smart device.
February 2022: PUPPYOO, a developer and manufacturer of vacuum cleaners, launched its T12 Plus Rinse vacuum cleaner, which has the advanced feature of a 6-stage HEPA filter to prevent air pollution.

Key Companies Profile:
Market players are investing heavily in research and development activities to develop and offer intelligent, portable, and lightweight vacuum cleaners.
Some of the prominent players in the vacuum cleaner market include:
Alfred Karcher SE & Co. KG
BISSELL Inc.,
CRAFTSMAN
DEWALT
Dyson
ECOVACS
Emerson Electric Co.
Haier Group
iRobot Corporation
Neato Robotics, Inc.
Nilfisk Group
Panasonic Holdings Corporation
Snow Joe LLC
Order a free sample PDF of the Vacuum Cleaner Market Intelligence Study, published by Grand View Research.

About Grand View Research
Grand View Research is a full-time market research and consulting company registered in San Francisco, California. The company fully offers market reports, both customized and syndicates, based on intense data analysis. It also offers consulting services to business communities and academic institutions and helps them understand the global and business scenario to a significant extent. The company operates across multitude of domains such as Chemicals, Materials, Food and Beverages, Consumer Goods, Healthcare, and Information Technology to offer consulting services.
Web: www.grandviewresearch.com
Media Contact
Company Name: Grand View Research, Inc.
Contact Person: Sherry James, Corporate Sales Specialist – U.S.A.
Email: Send Email
Phone: 1888202951
Address:Grand View Research, Inc. 201 Spear Street 1100 San Francisco, CA 94105, United States
City: San Francisco
State: California
Country: United States
Website: https://www.grandviewresearch.com/industry-analysis/vacuum-cleaner-market