Flavors And Fragrances Market Size To Grow At 4.3% CAGR By 2030 Due To Rising Demand & Consumption of Processed Food, Personal Care And Cosmetics Products Globally | Grand View Research, Inc.
According to a new report published by Grand View Research, the growing demand for aromatherapy diffusers is further likely to fuel the flavors & fragrances industry growth in the coming years.
Flavors and Fragrances Industry Overview
The global flavors and fragrances market size was valued at USD 23.35 billion in 2021 and expected to reach USD 34.19 billion by 2030, expanding at a compound annual growth rate (CAGR) of 4.3% over the forecast period.
The demand for the product is anticipated to be driven by the rising demand and consumption of processed food and personal care and cosmetics products globally. Rising disposable income in emerging economies like India and China coupled with rapid population growth is expected to augment the demand for personal care and cosmetic products in the market. In addition, the busy lifestyle pattern upheld in developing as well as developed countries are anticipated to augment demand for processed food & beverages, thereby increasing the demand for flavors in the global market.
Gather more insights about the market drivers, restrains and growth of the Global Flavors and Fragrances Market
Natural fragrances and flavors are costly due to their processing and due to limited resources, market players have developed cost-efficient synthetic alternatives. These products have the advantages of regular supply, steady pricing, and lower production costs. In the past years, there used to exist an arrangement in which dealers would have a multi-year contract with other dealers, but such arrangement is no longer popular.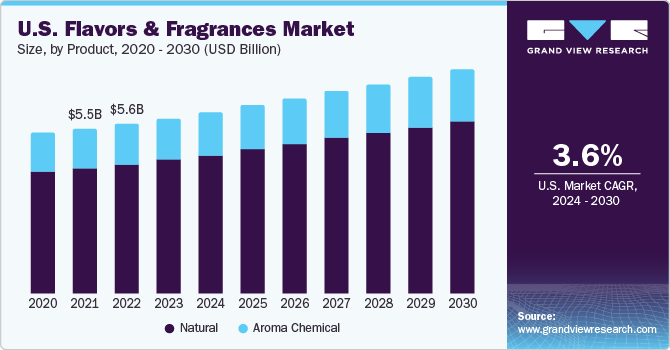 Due to the rise in awareness about the ill – effects of allopathic medicines, increasing concerns about the medicinal benefits, and therapeutic effects of herbal products are likely to fuel the demand for herbal products, dietary supplements, and herbal-based beauty aids derived from botanical extracts worldwide. These extracts are used in anti-aging cosmetic products to help in reducing the radical damage caused by bioflavonoids in their composition.
Flavors and fragrances provide strong sensory impressions, often determined when applied via medical products, beverages, food, and other substances. These products enhance the aesthetic value and overall appeal of consumer goods. Increasing demand for health and wellness foods, ready-to-eat and convenience meals, as well as technological advancements, are expected to propel market growth.

Flavors and Fragrances Market Segmentation
Based on the Product Insights, the market is segmented into natural and aroma chemical
Aroma chemicals dominated the market with the highest revenue share of over 64% in 2021. This is attributed to ever-increasing usage in the application industries like pharmaceutical, food & beverages, perfumeries, and wine.
Aroma chemicals are synthetic aromas that are used in many applications such as essential oils, food & beverages, perfumes, and others. Aroma chemicals play a crucial role in the manufacturing of fragrances and flavors that are used in the food industry to enhance the appeal and flavor of the product.
The use of natural products is on the rise due to the rising demand for exotic essential oils to be used in pharmaceuticals, aromatherapy, and natural cosmetics. Advanced countries are demanding fragrances where the odor value of a fragrance is replaced with natural oils. Thus, many exotic essential oils, like, Sandal, Junipers, Rosemary, Lavender, Geranium, etc. are finding usability in multiple new blends.

Based on the Application Insights, the market is segmented into flavors and fragrances
Fragrances dominated the market with a high revenue share of over 53% in 2021. Its high share is attributable to the increased demand for various fragrances in toiletries such as hand washes, detergents, soaps, personal care products, and cosmetics.
Fragrance plays an important role in aromatherapy applications, owing to which essential oils, materials, compounds, and aromatic oils demand is likely to be driven in aromatherapy applications.
Flavors are the aromas used in food & beverages. There is a rise in the application of flavors in numerous foods and beverages in commercial as well as domestic applications.
In addition, feed and feed additive manufacturers are focused on providing palatability solutions to increase feed intake. This is projected to propel the demand for flavors in animal feed applications.

Based on the Regional Insights, the market is segmented into North America, Europe, Asia Pacific, Central & South America and Middle East & Africa
The Asia Pacific dominated the market with a high revenue share of more than 30% in 2021. This is attributed to the shift in the choices of consumers towards nutritional and healthy food and beverages in most populated countries like India and China.
Asian flavors and fragrances have also gained popularity in the major regions of Europe and North America. Indonesia, India, China, and Vietnam are among the prominent food flavors markets in the region of Asia-Pacific.
Factors such as government subsidies, tax benefits, and high per capita income are attracting global companies to expand and start their operation in this region which is projected to develop the production and application of various flavors and fragrances in North America.
The trade agreement between Canada and the European Union is likely to enable participation in public bids in Canada. This is further intended to propel the trade of essential oils between Europe and North America, thereby providing a significant growth opportunity for the essential oils & floral extracts industry players in North America.

Market Share Insights:
October 2020: Givaudan inaugurated its new state-of-the-art fragrance production facility in Changzhou, China, in line with its 2025-targeted growth strategy. The company invested around USD 100 Mn in building the new facility across a 76,000 sq.m. area and is expected to substantially increase the company's manufacturing output for personal and home care segments in Asia Pacific
August 2020: IFF announced a merger with DuPont's Nutrition and Biosciences business. The new entity is expected to continue to work under the brand name of IFF. It shall deal in high-value ingredients and solutions for the Food & Beverage, Home & Personal Care, and Health & Wellness markets, with estimated 2020 revenue of more than $11 billion.

Key Companies Profile:
The flavors and fragrances market is fragmented and dominated by large multinational companies. Smaller companies differentiate themselves by creating unique natural fragrances and flavors and as a result, make it difficult for their competitors to imitate and enter the domestic market. The manufacturers are experiencing profit margin problems which have become worse due to the demands of retailers and processors and their private label brands.
Some prominent players in the global flavors and fragrances market include:
Sensient Technologies Corporation
Mane SA
Takasago International Corporation
Manohar Botanical Extracts Pvt. Ltd.
Alpha Aromatics
Ozone Naturals
Elevance Renewable Sciences, Inc.
Firmenich SA
Symrise AG
Vigon International, Inc.
BASF SE
Indo World
Akay Flavors & Aromatics Pvt. Ltd.
Ungerer & Company
Synthite Industries Limited
Universal Oleoresins
Flavex Naturextrakte GmbH
Falcon Essential Oils
doTERRA International
Young Living Essential Oils
Biolandes SAS
International Flavors and Fragrances, Inc.
Givaudan

Order a free sample PDF of the Flavors And Fragrances Market Intelligence Study, published by Grand View Research.

About Grand View Research
Grand View Research is a full-time market research and consulting company registered in San Francisco, California. The company fully offers market reports, both customized and syndicates, based on intense data analysis. It also offers consulting services to business communities and academic institutions and helps them understand the global and business scenario to a significant extent. The company operates across multitude of domains such as Chemicals, Materials, Food and Beverages, Consumer Goods, Healthcare, and Information Technology to offer consulting services.
Web: https://www.grandviewresearch.com
Media Contact
Company Name: Grand View Research, Inc.
Contact Person: Sherry James, Corporate Sales Specialist – U.S.A.
Email: Send Email
Phone: 1888202951
Address:Grand View Research, Inc. 201 Spear Street 1100 San Francisco, CA 94105, United States
City: San Francisco
State: California
Country: United States
Website: https://www.grandviewresearch.com/industry-analysis/flavors-fragrances-market