Residential Properties Can Increase in Value Tremendously via a Tennis Court

Many property owners that have spacious land they own along with their residences do seek to make use of this land eventually. While swimming pools are considered, as well as other uses, adding a tennis court to a property can increase the value, according to real estate experts by a mean average of 100,000 to 150,000. Tennis is popular in the Ontario and surrounding regions and CrowAll Surface Contractors Ltd. of Ontario has been providing all styles of tennis courts to residents of this region and beyond for many years now.
The type of court that works well in a residential installation is one that is asphalt penetration installation. A type of sport court that is considered a soft application, the asphalt penetration can last over ten years without showing any cracks or wear. In addition, soft court materials are easier on the players' bones and joints, and therefore a prime installation candidate for residential use. CrowAll Surface Contractors Ltd. also provides a ten-year limited guarantee on this type of court installation.
Of course, there are costs associated with installation, but the costs of a residential tennis court are more than well factored into the increased value that the tennis court will add to the property value. If averaging the costs, a residential court generally costs approximately 65,000 to 100,000 with fluctuations depending upon size and types of materials chosen.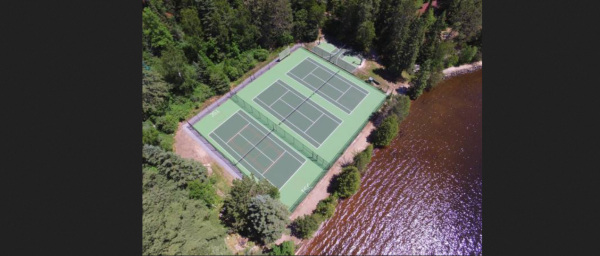 Clay courts are also another type in pricing with average prices running from 25,000 to 60,000. Basic courts that are hard materials and are smaller can run around the same price as a clay court. Grass courts which are extremely popular are about 200,000 but these are usually requested because of their beauty and by owners who have the money to afford them.
It is also easy to add more "pizazz" and eye appeal to a tennis court via color. Not all courts must be green, as is proven by the United States Open which uses a blue court to attract fans each year. The color spectrums can vary widely, and the aesthetic of a property can be enhanced by colorization. This is done by painting the surface with a paint especially made for sport surfaces as even basketball courts can be colorized.
CrowAll Surface Contractors Ltd. should be consulted before installation of any tennis court as measurements must be exact and location and aesthetics should also be considered. Maintenance and value go hand in hand as well, so to enhance a home value with the installation of a tennis court all uses and logistics as well as materials used must be factored into the equation. The consultants at CrowAll Surface Contractors Ltd. will ensure each property owner is satisfied with the installation.
About CrowAll Surface Contractors Ltd.
CrowAll Surface Contractors Ltd. located in Ontario have been providing the finest in sports courts to residents in the region and beyond for years. Residential installation of a tennis court is proving to increase property values and the company prides itself on its residential installations. There is a phone, form, and email on the website for a free consultation on a client's needs. A history of the company is also on the site. Customer satisfaction is a priority and there is a comment section.
Media Contact
Company Name: CrowAll Surface Contractors Ltd.
Contact Person: Daniel Cornacchia
Email: Send Email
Phone: 416-951-4626
Address:2 Briardale Place
City: Aurora
State: Ontario, L4G 6M4
Country: Canada
Website: http://crowall.ca/