Green Chemicals Market Size, Revenue, Future Opportunity and Analysis Through 2030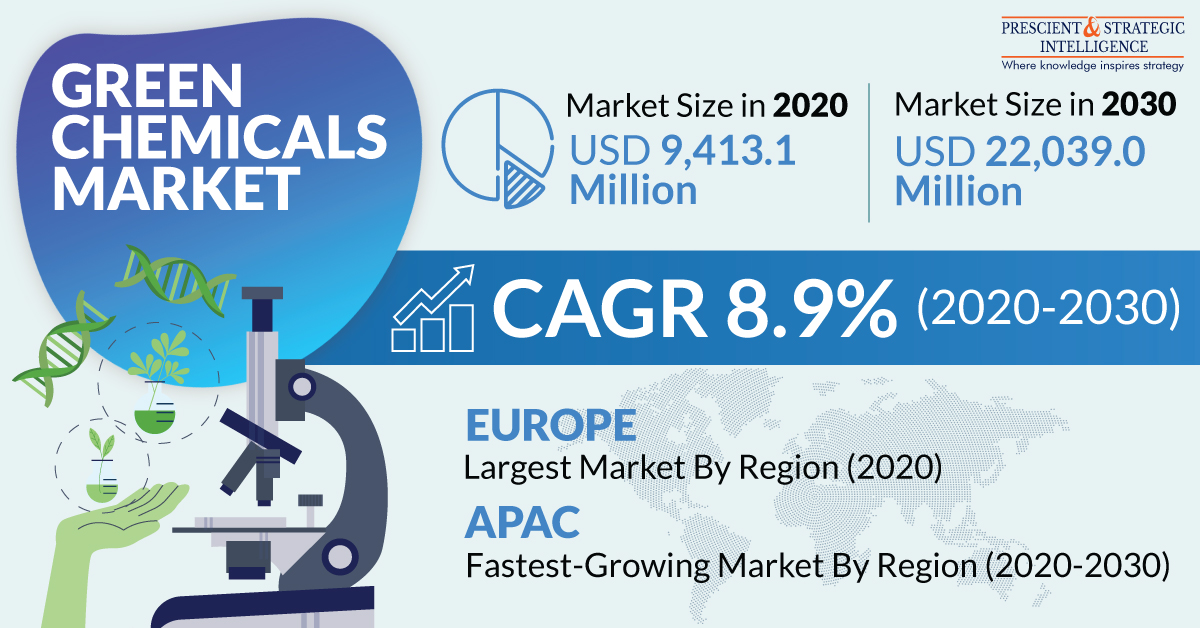 According to P&S Intelligence, Europe accounted for the largest share in the green chemicals market in 2020, and it is expected to maintain its dominance throughout the forecast period.
The Millennium Alliance for Humanity and the Biosphere (MAHB) estimates that oil reserves, gas reserves, and coal reserves will deplete by 2052, 2060, and 2090, respectively. The rapid depletion of oil and gas, which are extensively used in the production of chemicals, has resulted in the discovery of alternatives such as green chemicals. Additionally, the absence of sulfur dioxide and harmful particulate matter in green chemicals has also increased the usage of these bio-based chemicals in recent years.
Moreover, the escalating demand for bio-based packaging materials, owing to the non-toxic characteristic of plant and animal waste-based materials, is expected to drive the green chemicals market at 8.9% CAGR during 2020–2030. According to P&S Intelligence, the market was valued at $9,413.1 million in 2020 and it will generate $22,039.0 million revenue by 2030. Bio-based packaging materials require a few raw materials, have low production cost, and are easily disposable, owing to which their usage will significantly surge in the upcoming years.
Reuqest for sample pages of this report: https://www.psmarketresearch.com/market-analysis/green-chemicals-market-outlook/report-sample
Bioalcohols, biosurfactants, biosolvents, biopolymers, biolubricants, and organic acids are the different types of green chemicals being used in end-use industries. In the preceding years, bioalcohols were consumed in the highest volume, due to the extensive use of bioethanol as an alternative fuel for spark-ignition engines of automobiles and its low production cost. Additionally, a high volume of bioethanol is also used in the production of alcoholic beverages such as whiskey, beer, gin, vodka, and brandy.
The application segment of the green chemicals market is classified into agriculture, automotive, food and beverages, packaging, personal care, and others, such as paints and coatings, construction, textiles, and electrical and electronics. Among these, the personal care category is expected to display the fastest growth during the forecast period (2021–2030), owing to the surging focus of people on bio-based beauty and personal hygiene products. The surging concerns regarding the detrimental impacts of synthetic chemicals on the skin will result in the high-volume adoption of bio-based personal care products in India, China, the U.S., the U.K., and Germany.
In recent years, green chemical producers, such as Arkema Group, Vertec BioSolvents Inc., Koninklijke DSM N.V., Mitsubishi Chemical Corporation, GFBiochemicals Ltd., Plantic Technologies Limited, Total Corbion PLA, BASF SE, Toray Industries Inc., and Evonik Industries AG, have introduced novel products to cater to the needs of end-use industries. For instance, in June 2021, JSW Cement Limited unveiled a new range of green products to enter the construction chemicals sector. These products help conserve natural resources by replacing river sand during concreting with screen slag.
Browse detailed report on Green Chemicals Market Share, Business Strategies, Regional Outlook, Challenges and Forecast to 2030
Globally, the European green chemicals market generated the highest revenue in 2020, and it is also expected to continue witnessing this trend throughout the forecast years. The dominance of the region can be ascribed to the rising focus of the automotive, personal care, food and beverages, and packaging industries on environmental degradation. Additionally, the increasing emphasis of chemical companies in Europe on the production of green chemicals to develop environmentally friendly and sustainable solutions will also attribute to the regional market growth.
Therefore, the limited availability of fossil fuels and the vast demand for bio-based packaging materials will augment the consumption of green chemicals in the foreseeable future.
Green Chemicals Market Size Breakdown by Segment
By Product
Bioalcohols
Biopolymers
Biosolvents
Organic Acids
Others (Including Biolubricants and Biosurfactants)
By Application
Food & Beverages
Personal Care
Packaging
Automotive
Agriculture
Others (Including Construction, Electrical & Electronics, Paints & Coatings, and Textiles)
By Region
North America Green Chemicals Market

By product
By application
By country – U.S. and Canada

Europe Green Chemicals Market

By product
By application
By country – Germany, France, U.K., Italy, and Rest of Europe

Asia-Pacific Green Chemicals Market

By product
By application
By country – China, India, Japan, South Korea, and Rest of APAC

Latin America Green Chemicals Market

By product
By application
By country – Brazil, Mexico, Colombia, and Rest of LATAM

Middle East & Africa Green Chemicals Market

By product
By application
By country – Saudi Arabia, U.A.E., South Africa, and Rest of MEA
Browse Other Related Reports
Biocides Market – Geographically, the Asia-Pacific biocides market is expected to witness the fastest growth during the forecast period. This will be due to the soaring demand for treated water in China, India, and several other Southeast Asian countries for residential and industrial applications. Thus, the expanding industrial sector in APAC, owing to the rapid shift of manufacturing base from developed countries to this part of the world, will fuel the demand for biocidal products in the forecast years.
Polymer Market – Globally, the Asia-Pacific polymer market generated the highest revenue during the historical period, and it is projected to continue this trend throughout the forecast period. This can be owed to the increasing adoption of this substance in the automotive, packaging, construction, agriculture, textile, and electronics and electrical industries in the region. They use polymers in the production of flexible bottles, bearings, bushings, safety helmets, battery parts, gears, handles, anti-corrosive seals, film wrapping, cams, and jacketing for cables and wires.
Media Contact
Company Name: P&S Intelligence
Contact Person: Abhishek
Email: Send Email
Phone: +918887787886
Address:Noida Sector 2
City: Noida
State: UP
Country: India
Website: https://www.psmarketresearch.com/market-analysis/green-chemicals-market-outlook