Aaron King Emerges as Winner Of The S J Global Young Apprentice Competition 2020/21 Edition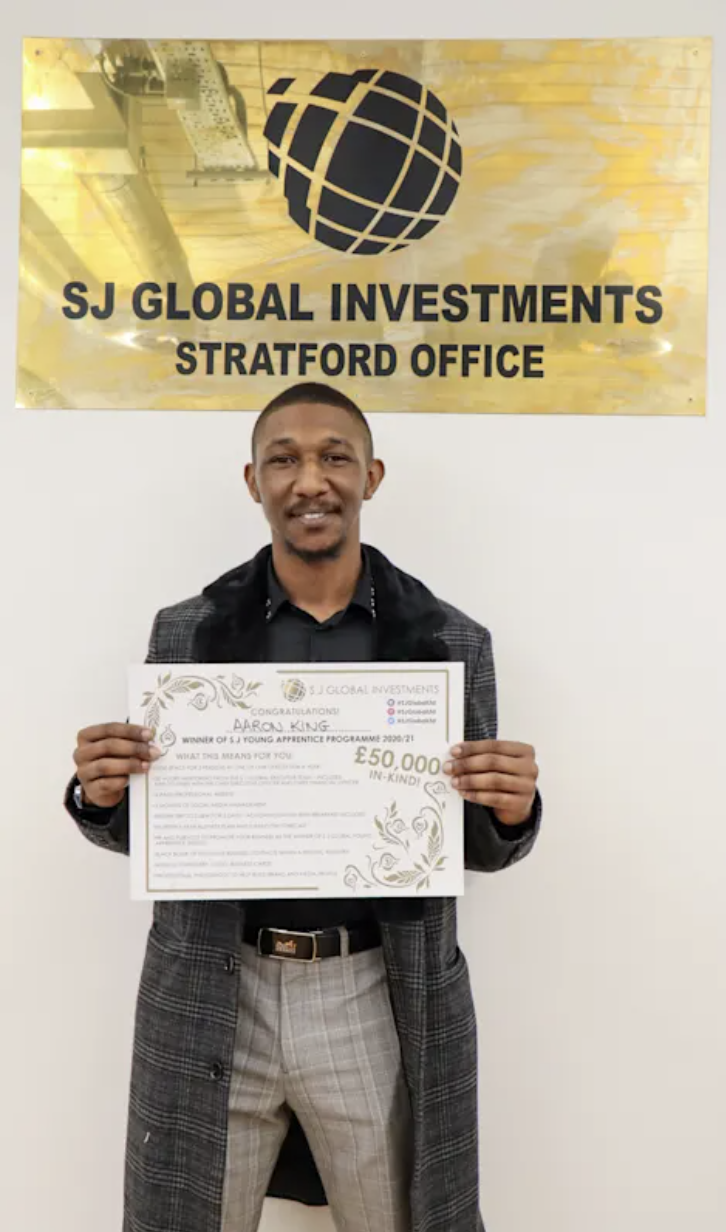 The CEO of S J Global, Paul Van der Hulks, congratulates Aaron King, who emerged winner of the competition and the other two finalists, for displaying superior and exceptional entrepreneurship skills and talent
S J Global Investment has announced the conclusion of its S J Global Young Apprentice Programme. It has effectively announced Aaron King as the winner of the 2020/21 edition of the program with Christina Banjo and Francis Innocent runners-up.
Aaron is a 30 years old Senior Health and Safety Consultant from Croydon, South London. He launched his own company called the Black Ladder Property Group in 2020 to help both aspiring and new homeowners get the property of their dreams. His business also includes providing services to landlords and investors to maximise their investment return using multiple strategies.
"It was an excellent completion from start to finish, with many high-quality entrants, which was challenging to further reduce the competition we got," said Paul Van der Hulks, CEO of Paul Van der Hulks. "The three finalists were of equally high quality, but in the end, the calibre of Aaron's business initiative shone through. A worthy winner he is."
The other Finalists were Christina Banjo, a young and enterprising lady who launched her own company called 'CHRISTINA CHI', a contemporary accessories label designed in London. Francis Innocent has the goal to take his sports apparel brand 'TFN' to new heights.
S J Global Young Apprentice Competition was created to discover young talents with innovative ideas in business. It was open to young adults between the ages of 18 to 35 to reward upcoming entrepreneurs, to help them get the resources to transform their business venture from a start-up to an entire operation. Participants are assessed based on their creative, innovative, and entrepreneurial skills. The winner gets the prize of £50,000-in-kind, which they can use to establish their business. They also get to travel, train, and network with S J Global Investment's organisations anywhere in the world.
Creating the S J Global Young Apprentice Competition is S J Global's way of adding value to society by discovering genius among young people, encouraging them, and supporting them to grow. The youths are tomorrow's leaders, and they need all the support they can get to explore and develop.
To participate in the Young Apprentice 2021/22 campaign, please register your interest and sign up for updates using this link: https://sjglobalinvestments.com/young-apprentice/.
About S J Global
S J Global is a private investment company domiciled in London and Dubai and has companies, offices, and representatives in 27 countries worldwide. The company is into commodity trading, property and real estate, business and project financing, company formation, trade finance, green energy, and infrastructure. Their vision is to support projects and companies that will not just bring profit but also positively impact people's lives.
For more information, please visit here.
Media Contact
Company Name: S J Global
Contact Person: Paul Van der Hulks, CEO
Email: Send Email
Country: United Kingdom
Website: https://sjglobalinvestments.com