Berry Pearson Releases New Book, "The Blood of Christ: What Jesus Said"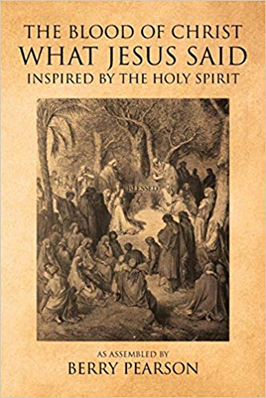 As John 19:30 says, "Jesus said, 'It is finished,'"
Let Berry Pearson guide you on the recorded words the Lord Jesus Christ. Berry is no Bible scholar but an avid seeker and obedient follower of the will of the Father. Brought up as a Baptist, Berry Pearson lost his ways but returned to the grace of God and has been steadfast in his faith ever since. He believes that "to actually know someone, you know them through their words. If they are true to their words. Jesus is true."
"The Blood of Christ What Jesus Said" details the spoken words of our Lord Jesus Christ, arranged to guide Christians and non-Christians alike, of the lessons and promises He made. A comprehensive guide to make your daily living with Jesus as easy as Him giving up his life for our salvation.
From the book of Matthew, all the way through the Revelation, Berry Pearson's love for the Lord is manifested through the detailed documentation of every word Christ has said when he came down from heaven to save mankind.
2 Cor. 12:9
My grace is sufficient for thee; for my strength is made perfect in weakness.
The new book The Blood of Christ: What Jesus Said can be found online at Amazon. The book is available in paperback and Kindle formats. The value of Berry Pearson's new book focuses on helping people to identify the words of Christ and to fully respect the great words of God and how critical they are to society as a whole.
Title: The Blood of Christ What Jesus Said
Date Published: 2018
ISBN: 9781641142717
Book's Genre: Religion (Christianity)
Book Link: https://www.amazon.com/Blood-Christ-Jesus-Inspired-Spirit/dp/1641142715/ref=sr_1_1?keywords=9781641142717&qid=1561076014&s=books&sr=1-1
Media Contact
Contact Person: Berry Pearson
Email: Send Email
Country: United States
Website: https://www.amazon.com/Blood-Christ-Jesus-Inspired-Spirit/dp/1641142715/ref=sr_1_1?keywords=9781641142717&qid=1561076014&s=books&sr=1-1