Kashya Hall Ignites the Court at Banzai Volleyball Club
Talented volleyball player, Kashya Hall, joins the Banzai Volleyball Club, as she continues to demonstrate her extra-ordinary talents on the court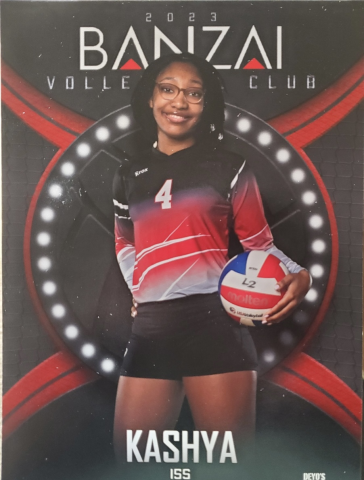 Kashya Hall has undeniably shown her prowess as a volleyball player and the gifted athlete is looking to replicate and even surpass the feats achieved in the past as she pitches her net with the Banzai Club. The Omaha North High student almost immediately made the headlines upon her arrival at the school, as she was selected to play varsity in her freshman year.
"I have played volleyball for 8 years, and I love it more every year. When I step onto the court, I am not only trying to make myself better but also my team. I am a well-rounded and teachable volleyball player being able to play any position on the front row and outside if necessary." – Kashya Hall.
Volleyball remains one of the most popular games in the world, with several amazing athletes treating lovers of the sport to exciting performances. Over the years, thousands of volleyball players have emerged in different parts of the world showing their captivating skills and breaking boundaries. The situation is not particularly different in the United States. However, Kashya Hall looks set to take the experience for all stakeholders in the volleyball game to a whole new level, judging by her strides in a relatively short while.
Kaysha Hall is gradually establishing herself as a force to reckon with in the world of volleyball, with the Middle Blocker, Outside Hitter already having her name on the lips of lovers of the game. The Omaha native has demonstrated her diversity as a volleyball player, with unimaginable performances across different parts of the court. Her exploits against Omaha Bryan Public, Omaha Benson, Westside, and other opponents have endeared Kashya to different stakeholders in the volleyball game.
In addition to being a remarkable athlete, Kaysha Hall has also shown the possibility of having a perfect mix of academic excellence and sports, as she hopes to one day become a professional nurse.
Media Contact
Company Name: Neechum Construction
Contact Person: Cordero hall
Email: Send Email
Phone: +1 531 721 8812
Country: United States
Website: https://www.instagram.com/reel/CossHyxjZ_L/?igshid=YmMyMTA2M2Y=