Eric Valdespino Officially Launches His Debut Book "Last Alien Encounter"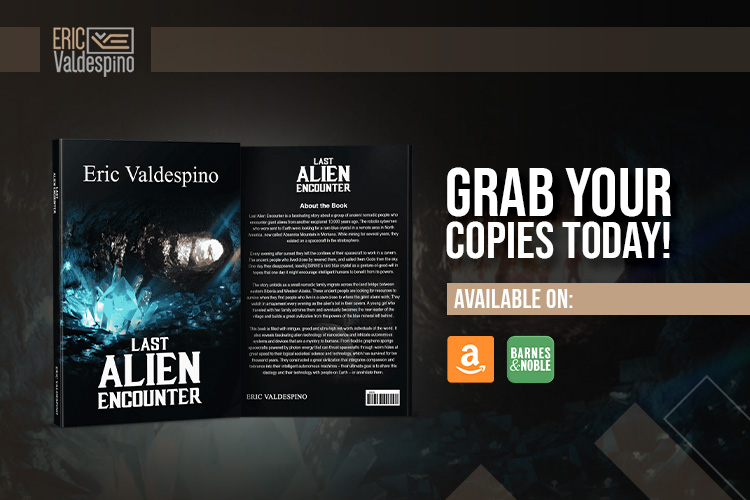 The love for the discovery of aliens will never die until these extraterrestrial creatures are found. Over the last couple of decades, numerous stories and sightings have caused people to go on lengthy searches over the world for aliens. Not only explorers have taken advantage of it, but authors too.
But when it comes to Eric Valdespino, the author decided to do something unique with his storytelling creativity.
Those who know Eric can confidently say he is not your typical fictional lover. His kids had a great time when he used to tell them entertaining and engaging stories when they were young. From there, he decided to share his stories with a larger audience. That's when he started working on his book and took time to build a plot, unlike anything people had read before.
Last Alien Encounter is a fascinating story of dual periods, one during the Last Ice Age and one in the present day. The story starts with some nefarious people who unearth ancient relics from a lost civilization that knew advanced science. The first story begins with a young student who finds two colossal heads while exploring a cavern. This led to the discovery of a blue crystal able to store large amounts of memory. But the most interesting phenomenon is when this crystal is reduced to a powder form, can alter gravitational force, and more – a power used by this ancient civilization.
Eric wanted to make it as creative as possible, where he leaves readers wondering about the connections between science and technology in the past. This story makes one think of the past differently if intelligent aliens influenced ancient people. What could have taken place thousands of years ago might explain how temples, pyramids, and other unexplained buildings were constructed thousands of years ago.
Media Contact
Contact Person: Eric Valdespino
Email: Send Email
Country: United States
Website: www.lastalienencounter.com