Kio DJ and Cupo Collaborate on "Cielo di Dubai"
Music transcends borders and brings people together, and that's what happened with the latest collaboration between Kio Dj and Italian guitarist Cupo . Their new song, titled Cielo Di Dubai showcases their combined musical talents and features a mesmerizing music video filmed in the breathtaking city of Dubai.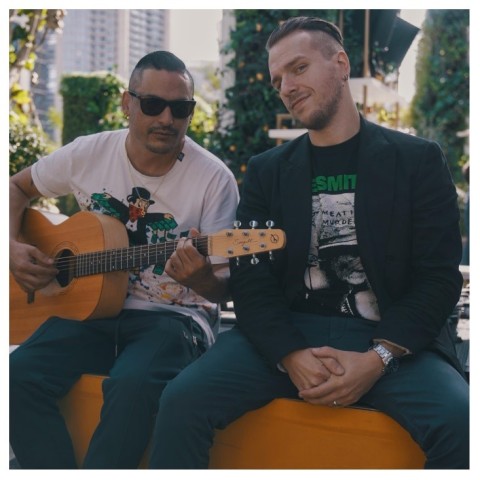 The new song is a perfect example of the fusion of different genres, with Colombian Dj kio bringing in his unique style and Cupo adding his virtuosic guitar skills to the mix. The result is a beautifully crafted piece that takes the listener on a sonic journey of emotions. The lyrics are captivating and tell a story of love, loss, and redemption that is sure to resonate with listeners.
The music video for the song is equally captivating, featuring stunning visuals of the city of Dubai. The video takes the viewer on a journey through the city, showcasing its iconic landmarks such as the Burj Khalifa, the Dubai Fountain, and the Palm Jumeirah. The video also features shots of Kio DJ and Cupo performing the song on various locations around the city, which adds a personal touch to the video and gives the viewer a sense of their collaboration and chemistry.
In a recent interview, Kio talked about the inspiration behind the song and how the collaboration came about. He said, "I was looking for a guitarist who could bring a new dimension to my music, and that's when I discovered Cupo. We started exchanging ideas and before we knew it, we had this beautiful song. It was a great experience working with him, and I think our collaboration brought out the best in both of us."
Video Link: https://www.youtube.com/embed/ihsDIRWeX2U
Cupo also had great things to say about the collaboration, saying, "Working with (Kio DJ was a great experience. His technique is amazing, and I was blown away by his talent. It was an honor to be a part of this project, and I'm proud of what we've created together."
The new song and music video are sure to make an impact in the music world, and fans of both Kio DJ and Cupo are eagerly awaiting the release. The video perfectly captures the essence of the song, and the stunning visuals of Dubai only add to its charm. This collaboration is a testament to the power of music to bring people together and create something beautiful.
The collaboration between Kio DJ and Cupo is a must-see and must-listen for all music lovers. Their new song, Cielo DI Dubai, is a testament to their combined musical talents, and the music video filmed in Dubai only adds to its appeal. We can't wait to see what these two talented musicians will create next.
Finally, it's worth mentioning that this collaboration is just one of the many exciting projects that Kio DJ has been working on recently. As an accomplished producer and performer, he has been making waves in the music industry both in Colombia and abroad. With his unique sound and dynamic live performances, Kio DJ has gained a loyal fanbase and is quickly becoming a rising star in the world of electronic music. We can't wait to see what he has in store for us in the future!
Video: https://youtu.be/ihsDIRWeX2U
Spotify: https://open.spotify.com/album/4xxC2S87GPJisFdP9r6dyI
Media Contact
Company Name: Kio Records
Contact Person: Press
Email: Send Email
Country: United Arab Emirates
Website: https://www.kiodj.com