Onyx BOOX Introduces 12 Must-Know Shortcuts for the Keyboard Cover of Tab Ultra
The magnetic keyboard cover is a perfect companion for BOOX Tab Ultra to provide excellent protection and productivity at the same time. Despite the options of the touchscreen and the stylus, the keyboard remains a significant tool to type text and make interactions with the device. Recently, Onyx BOOX has introduced 12 powerful but probably lesser-known key combos to boost productivity while at work.
Navigation
#1 – Cmd + Backspace (Delete): Back
Going back is one of the most common actions to return to the previous page when navigating through the device. This shortcut can save most of the effort from repeatedly tapping on the screen or swiping from the edge.
#2 – Cmd + Enter / Cmd + D: Home Screen
Two ways of going to the home screen are designed so that the user can immediately return to the desktop and open another app from the device.
#3 – Fn + Backspace (Delete) / Cmd + L: Lock (Sleep)
Either shortcut provides a convenient way to access Sleep Mode and lock the device without using the Power Button in a business or public environment where the user doesn't want to leave their device on when they are away for a lunch break.
#4 – Fn + 5: Full-refresh Screen
The action of full refresh is essential to clear ghosting on the E Ink screen when it accumulates too much. This shortcut will be a timesaver when working on an immersive task.
#5 – Fn + 9: Screenshot
This is an easy way to capture the screen and directly make markups to illustrate one's ideas. The user is also able to share this with others or run an OCR after a screenshot is taken, for free.
Multitasking
#6 – Alt + Tab: App Switcher
When someone is multitasking with several apps, they could have missed this shortcut they are most familiar with. Just like in the Windows system, tap the Tab key while holding Alt to switch between different apps, and release Alt to switch to the selected app.
#7 – Cmd + "[" / Cmd + "]" (Bracket Keys): Split Screen
This combo can quickly split the screen side by side with another most recent app during using an app. Not all apps are supported in the system but it can save the effort of frequently switching between two apps.
#8 – Cmd + N: Control Center
This is especially useful to call out the Control Center during the usage of an app in full-screen mode. Use this function if someone needs to enable settings such as WiFi, Bluetooth, and Nearby Share.
#9 – Cmd + B: Default Browser
This shortcut can take the user right to NeoBrowser, the BOOX built-in browser designed for E Ink screens by default when they need to google something in a flash or keep up with their favorite news feed.
#10 – Cmd + E: Gmail
When the user needs to check their emails regularly, this shortcut will come in handy to instantly jump to Gmail like a breeze.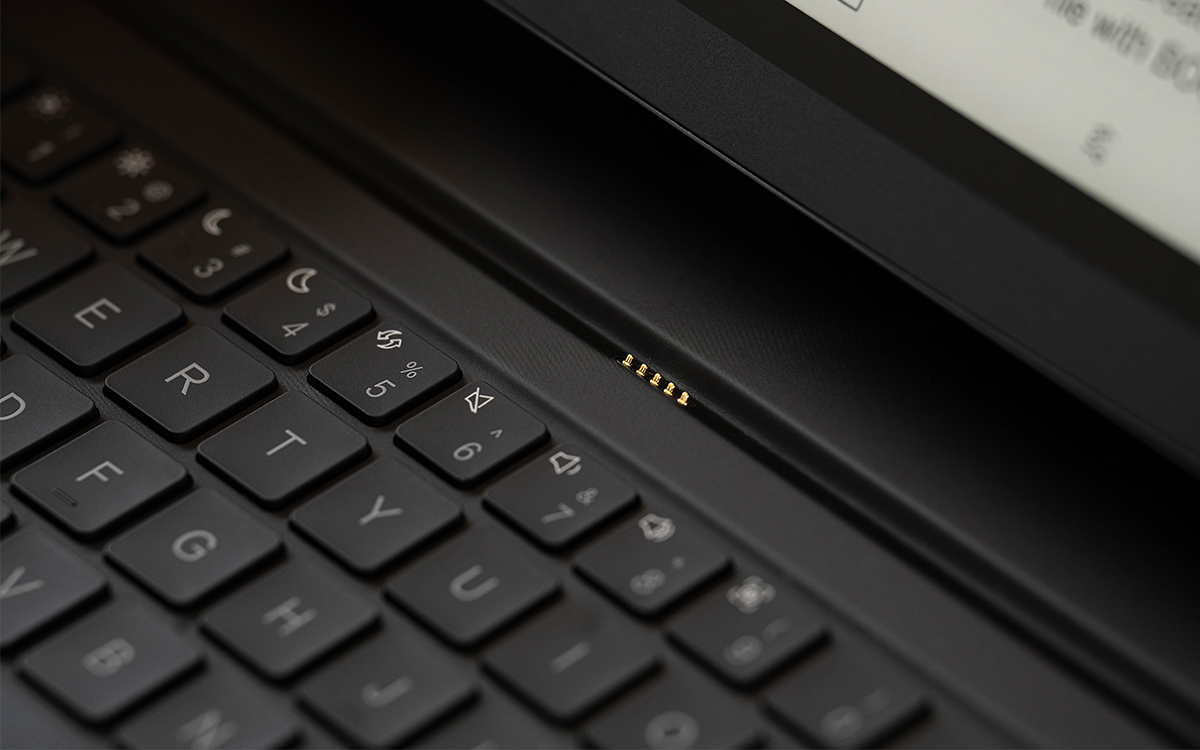 Typing
#11 – Ctrl + Shift: Switch input method
If the user has installed other input methods, especially for several different languages, they can use this shortcut to switch between them without hassle.
#12 – Shift: Enable / Disable Auto Suggest
Auto Suggest can be easily turned on / off for the Onyx Keyboard by simply pressing the Shift key. By the way, the Auto Suggest pop-up offers a quick way to call out the virtual keyboard for advanced settings including inserting emojis and visiting the clipboard.
About Onyx BOOX
BOOX is a global leading E Ink electronic brand of Onyx that specializes in E Ink tablets and monitors. It offers 6inch to 13.3inch E Ink products to assist aspiring, persistent, and innovative users in becoming more productive in work and study without straining their eyes. With cutting-edge hardware and advanced software, BOOX is the world's only E Ink electronic brand that combines E Ink with Android and provides maximum flexibility.
More product information can be found at shop.boox.com.
Media Contact
Company Name: Senmer News Wire
Contact Person: Arthur
Email: Send Email
Country: United States
Website: https://www.senmer.com/news