Multiple Myeloma Market to Observe Stupendous Growth During the Forecast Period (2019-32) – DelveInsight | Key Companies – IASO Biotherapeutics, Janssen, Oncopeptides AB, CASI Pharma, GSK, AbbVie
The Multiple Myeloma Market dynamics are anticipated to change in the coming years owing to the increase in incident cases of Multiple Myeloma, the launch of novel drugs, and the expected increase in investment in R&D activities worldwide.
Several major pharma and biotech giants, such as AbbVie, Roche, Janssen Research & Development, Merck Sharp & Dohme Corp., Pfizer, Takeda, Amgen, AstraZeneca, and others, are involved in developing drugs for Multiple Myeloma. The launch of emerging therapies is anticipated to transform the treatment scenario in the coming years.
DelveInsight's "Multiple Myeloma Market Insights, Epidemiology, and Market Forecast 2032" report delivers an in-depth understanding of the disease, historical and forecasted epidemiology, as well as the Multiple Myeloma market size, share, trends, and growth opportunities in the seven major markets (7MM) (i.e., the United States, EU4 (Germany, Spain, Italy, France), the United Kingdom and Japan).
The Multiple Myeloma market report covers emerging drugs, current treatment practices, market share of individual therapies, and current & forecasted market size from 2019 to 2032. It also evaluates the current treatment practice/algorithm, key drivers & barriers impacting the market growth, and unmet medical needs to curate the best of the opportunities and assess the underlying potential of the market.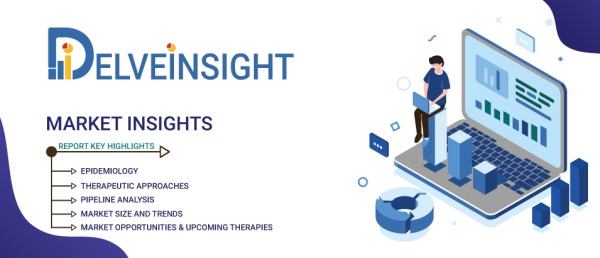 Multiple Myeloma: An Overview
According to the American Cancer Society, Multiple myeloma is a cancer of plasma cells. In general, when plasma cells become cancerous and grow out of control, this is called multiple myeloma. The plasma cells make an abnormal protein (antibody) known by several different names, including monoclonal immunoglobulin, monoclonal protein (M-protein), M-spike, or paraprotein. Normal plasma cells are found in the bone marrow and are a significant part of the immune system.
Multiple myeloma is the second most common blood cancer diagnosis, after non-Hodgkin lymphoma, in the United States. Multiple Myeloma is slightly more prevalent in males compared to females. Myeloma incidence is strongly related to age, with the highest incidence rates being in older people and most frequently diagnosed among people aged 65–74. Approximately 95% of cases are diagnosed at a distant or metastatic stage, and 5-year relative survival rate for this stage is around 53%.
Most of the researchers are unaware of the exact cause of multiple myeloma. However, they have made progress in understanding how certain changes in DNA can make plasma cells become cancerous. DNA is the chemical that transfers the instructions for nearly everything the cells do in the body. Patients with active myeloma generally receive treatment to reduce or at least relieve symptoms and reduce the number of myeloma cells in the bone marrow.
Multiple Myeloma Market Key Facts
In 2022, According to the Surveillance, Epidemiology, and End Results (SEER), the number of new cases of Multiple Myeloma was expected to be around 34,400+ in the US

In the year 2020, the total incident case of Multiple Myeloma was 70,500+ cases in the 7MM

In 2020, the United States had 32,270 cases of Multiple Myeloma.

Among the EU-5 countries, the highest number of cases of Multiple myeloma was in Germany, i.e., 7,600+ cases in the year 2020

In Japan, the total incident cases were found to be 8,200+, and the total symptomatic cases of Multiple Myeloma were 7,200+ in 2020.

In August 2022, the Janssen Pharmaceutical Companies of Johnson & Johnson announced that the European Commission (EC) had granted conditional marketing authorization (CMA) for TECVAYLI (teclistamab) as monotherapy for the treatment of adult patients with R/R MM.

In May 2022, the European Commission granted conditional marketing authorization to CARVYKTI (ciltacabtagene autoleuceI) for the treatment of adults with (RRMM) who have received at least three prior therapies.
The market outlook section of the report helps to build a detailed comprehension of the historical, current, and forecasted Multiple Myeloma market size by analyzing the impact of current and emerging pipeline therapies. It also provides a thorough assessment of the market drivers & barriers, unmet needs, and emerging technologies set to impact the market dynamics.
The report gives complete detail of the Multiple Myeloma market trend for each marketed drug and mid & late-stage pipeline therapies by evaluating their impact based on the annual cost of therapy, their Mechanism of Action (MoA), Route of Administration (RoA), molecule types, competition with other therapies, brand value, and their impact on the market.
Multiple Myeloma Epidemiology Assessment
The epidemiology section provides insights into the historical, current, and forecasted epidemiology trends in the seven major countries (7MM) from 2019 to 2032. It helps to recognize the causes of current and forecasted epidemiology trends by exploring numerous studies and research. The epidemiology section also provides a detailed analysis of diagnosed and prevalent patient pool, future trends, and views of key opinion leaders.
The Report Covers the Multiple Myeloma Epidemiology Segmented by –
Total Incident Cases of Multiple Myeloma in the 7MM (2019–2032)

Diagnosed cases of Multiple Myeloma by Age Distribution in the 7MM (2019–2032)

Total Symptomatic Cases of Multiple Myeloma in the 7MM (2019–2032)

Cases of Multiple Myeloma by Treatment Line in the 7MM (2019–2032)

Gender-specific cases of Multiple Myeloma in the 7MM (2019–2032)
Multiple Myeloma Drugs Uptake and Pipeline Development Activities
The drug uptake section focuses on the rate of uptake of the potential drugs recently launched in the Multiple Myeloma market or expected to be launched during the study period. The analysis covers the Multiple Myeloma market uptake by drugs, patient uptake by therapies, and sales of each drug. Moreover, the therapeutics assessment section helps understand the drugs with the most rapid uptake and the reasons behind the maximal use of the drugs. Additionally, it compares the drugs based on market share.
The report also covers the Multiple Myeloma pipeline development activities. It provides valuable insights about different therapeutic candidates in various stages and the key companies involved in developing targeted therapeutics. It also analyses recent developments such as collaborations, acquisitions, mergers, licensing patent details, and other information for emerging therapies.
Learn How the Multiple Myeloma Market Will Evolve and Grow by 2032 @
https://www.delveinsight.com/sample-request/multiple-myeloma-market-insight
Multiple Myeloma Therapeutics Analysis
There have been tremendous breakthroughs in treating multiple myeloma over the previous decade, with the US FDA approving a wide range of treatments. Currently, the market holds a diverse range of therapeutic alternatives for treatment, including Proteasome Inhibitors, Immunomodulating Agents, Histone Deacetylase (HDAC) inhibitors, Monoclonal Antibodies, Chemotherapy, Corticosteroids, Nuclear export inhibitors, and CAR-t cell therapy in different lines of treatment.
To further improve the treatment scenario, globally, several key companies are actively working to develop new therapies. Currently, Janssen Pharmaceuticals has its Multiple myeloma drug candidates in the most advanced stage of clinical development.
The Leading Companies in the Multiple Myeloma Therapeutics Market Include:
Some of the major pharma and biotech giants in the Multiple Myeloma Therapeutics Market include GlaxoSmithKline, Bluebird bio, Oncopeptides AB, Secura Bio, Amgen (Onyx therapeutics), Millennium Pharmaceuticals, Sanofi, Karyopharm Therapeutics, Janssen Biotech, Bristol Myers Squibb, Takeda Pharmaceutical, Celgene, RAPA Therapeutics, Pfizer (Array Biopharma), Cellectar Biosciences, BioLineRx, Celgene/Aduro Biotech, ExCellThera, Precision BioSciences, Glenmark (Ichnos Sciences SA), Poseida Therapeutics, Molecular Partners AG, Chipscreen Biosciences, Genentech (Roche), Nanjing Legend Biotech, Merck Sharp & Dohme Corp., Regeneron Pharmaceuticals, Bristol-Myers Squibb, Cartesian Therapeutics, AstraZeneca, Abbvie (Pharmacyclics) and Johnson & Johnson, MorphoSys AG/I-Mab Biopharma, and many others.
Multiple Myeloma Drugs Covered in the Report Include:
Venetoclax (ABT-199): AbbVie and Roche

JNJ-68284528 (LCAR-B38M/JNJ-4528): Janssen Biotech/Nanjing Legend Biotech

Keytruda (Pembrolizumab): Merck Sharp & Dohme Corp.

Cetrelimab (JNJ-63723283): Janssen Research & Development

REGN5458: Regeneron Pharmaceuticals

Felzartamab (MOR202): MorphoSys AG/I-Mab Biopharma

Chidamide (Epidaza): Chipscreen Biosciences

Iberdomide (CC-220): Bristol-Myers Squibb/Celgene

Rapamycin-Resistant Th1/Tc1 (RAPA-201) Cell Therapy: RAPA Therapeutics

Encorafenib in combination with Binimetinib: Pfizer (Array Biopharma)

CLR 131 (131-CLR1404): Cellectar Biosciences

BL-8040: BioLineRx

GVAX (GM-CSF) Vaccine: Celgene/Aduro Biotech

ECT-001: ExCellThera

TAK-079: Takeda

GBR 1342 (ISB 1342): Glenmark (Ichnos Sciences SA)

P-BCMA-101 CAR-T cells: Poseida Therapeutics

Opdivo (Nivolumab): Bristol-Myers Squibb

PBCAR269A: Precision BioSciences

MP0250: Molecular Partners AG

Teclistamab (JNJ-7957; JNJ-64007957): Janssen Pharmaceutical

Descartes-11: Cartesian Therapeutics

Imfinzi (Durvalumab): AstraZeneca

Imbruvica (Ibrutinib): Abbvie (Pharmacyclics) and Johnson & Johnson
And Many More
The Report Covers the In-depth Assessment of the Emerging Drugs & Key Companies. Download the Sample Report to Learn More @
https://www.delveinsight.com/sample-request/multiple-myeloma-market-insight
Table of Content (TOC)
1. Key Insights
2. Executive Summary
3. Multiple Myeloma Competitive Intelligence Analysis
4. Multiple Myeloma Market Overview at a Glance
5. Multiple Myeloma Disease Background and Overview
6. Multiple Myeloma Patient Journey
7. Multiple Myeloma Epidemiology and Patient Population (In the US, EU5, and Japan)
8. Multiple Myeloma Treatment Algorithm, Current Treatment, and Medical Practices
9. Multiple Myeloma Unmet Needs
10. Key Endpoints of Multiple Myeloma Treatment
11. Multiple Myeloma Marketed Products
12. Multiple Myeloma Emerging Drugs and Latest Therapeutic Advances
13. Multiple Myeloma Seven Major Market Analysis
14. Attribute Analysis
15. Multiple Myeloma Market Outlook (In US, EU5, and Japan)
16. Multiple Myeloma Access and Reimbursement Overview
17. KOL Views on the Multiple Myeloma Market
18. Multiple Myeloma Market Drivers
19. Multiple Myeloma Market Barriers
20. Appendix
21. DelveInsight Capabilities
22. Disclaimer
*The Table of Contents (TOC) is not exhaustive; the final content may vary. Refer to the sample report for the complete table of contents.
Download the Sample PDF to Learn More About the Key Offerings of the Report @
https://www.delveinsight.com/sample-request/multiple-myeloma-market-insight
Other Trending Healthcare Reports By DelveInsight
Multiple Myeloma (MM) Pipeline Insight
"Multiple Myeloma (MM) Pipeline Insights, 2023" report provides comprehensive insights about 100+ companies and 130+ drugs in the Multiple Myeloma pipeline landscape. It covers the pipeline drug profiles, including clinical and nonclinical stage products by stage, route of administration, and molecule type. It further highlights the inactive pipeline products in this space.
About DelveInsight
DelveInsight is a leading Business Consultant and Market Research Firm focused exclusively on life sciences. It supports pharma companies by providing comprehensive end-to-end solutions to improve their performance.
Media Contact
Company Name: DelveInsight Business Research LLP
Contact Person: Shruti Thakur
Email: Send Email
Phone: 09650213330
Address:304 S. Jones Blvd #2432
City: Las Vegas
State: NV
Country: United States
Website: https://www.delveinsight.com/