First Outlook at The Conglomerate Capital´s token CONG
Since its announcement, The Conglomerate Capital (TCC) project has been garnering a lot of attention. Some people are calling it the next big thing in the crypto world, and there is certainly a lot of hype surrounding it.
Our group of crypto journalists decided to take a closer look at the project. Is it really worth investing in?
Environment

As the world becomes more digital, it is rapidly changing and becoming more decentralized. The rise of cryptocurrency, blockchain, DeFi, web 3.0 and Decentralized Autonomous Organizations (DAOs) are contributing to that. Now, the challenge is how to make use of all these new technologies and impact society positively.
From the finance and investing perspectives, with these new technologies, there is a unique chance to provide outstanding private market investment opportunities to retail investors throughout the world that, until now, only Venture Capital (VC) and Private Equity (PE) funds could access, which is where the true value is generated.
In total, the Crowdfunding and Launchpad (ICO) market will reach USD 21bn value in GMV terms next year, according with FNF Research. Although the crypto, as a way of funding, accounted for just ~20% of the capital raised, its average amount per deal is USD 4.9M while the crowdfunding is just USD 0.3M.
Exported from the Company´s website. The Team has been able to put together various AI-built videos to make it easy for investors to understand the complexity of the project.

The project

The Conglomerate Capital (TCC), with its token (CONG), is the first truly web3, Ethereum blockchain-based investment and funding platform, governed by a Decentralized Autonomous Organization (DAO), from which disruptive startups as well as SME businesses will raise capital, where investors will be able to access Venture Capital and Private Equity outstanding opportunities through the CONG token.
The TCC and CONG ecosystem is the first and only to create governance and investing features to guide and protect investors through the implementation and use of new market features and to count with the expertise of world tier-1 VC and PE industries executives to shape the way people invest their capital.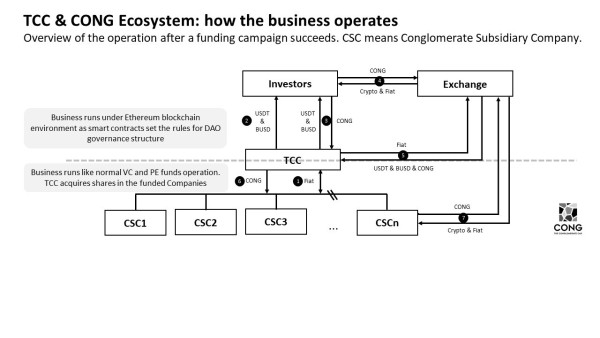 Exported from TCC & CONG presentation deck. Based on the founders' strong background, The Ecosystem will be the first one to bring VC and PE industries features to the crypto world.
Notes:
1) After a campaign is funded, TCC exchanges USDT & BUSD for fiat and send it to the Company. On opposite direction, whenever a Company generates cash and distributes to shareholders, TCC will receive cash proportionally to its stake.
2) Based on governance decision, funds distributed from the Companies to TCC may be exchanged to USDT & BUSD and distributed to holders proportionally.
3) TCC can implement a buyback program if there is cash available. Price per CONG and total amount, to be decided by governance.
4) Investors will be able to trade CONG when the token is listed in exchanges.
5) With the cash generated from the Companies, TCC may exchange it to tokens to be distributed to holders.
6) Seeking alignment of interests, CONG tokens will be granted, based on vesting, to top management of the Companies.
7) When the tokens get vested, these executives can use an exchange to get other tokens or fiat for CONG.

The CONG Token

We read the project´s white paper and interacted with blockchain experts to hear their thoughts about it. Overall, what we heard is that not only its tokenomics but also governance system are the first of its kind.
By bringing VC and PE features to the crypto world, the project will be able to guide and protect investors through a better investing experience. We summarized a couple of its features below:
Tokenomics

Holders benefit from various ways from token appreciation, token dividends, sale of portfolio companies, interest-bearing tokens, income-profiting features, etc.
CONG token price increases along the increase of portfolio companies opportunities in TCC platform. The sooner investors purchase and hold the token, the better.
Yield Farming: pegged to SELIC (Brazilian standard market rate). Tokens locked for farming as well as rewards and cannot be sold in the market. Rewards can be used to participate in deals. Seed, pre-sale and private sale investors have 120%, 110% and 105% of SELIC (currently at 13.75%) for their yield farming tokens, respectively.
CONG options ("CONGo"): If the hard cap of a funding campaign is reached, surplused value is exchanged for CONGo which will be exchanged for CONG when the next funding event goes online. The exchange price will be CONG'(p-1), which is the token price when investors previously applied.
Fairness Allocation: to increase the number of investors in the ecosystem, new investors will be 1st group to be prioritized and allocated in the funding campaign. After that, investors have their allocation in terms of their share in the total CONG staked.
Governance

Buyback program: every holder can set to vote, if there is cash available, as governance procedure.
In order to make it harder for large token holders to manipulate governance proposals, given the increased cost of acquiring votes, CONG protocol will use Quadratic voting feature per staked tokens.
Vote lock-up: to significantly reduce governance attacks, minted tokens and addresses of less than 1 year are not eligible for voting as well as unvested tokens.
Side pocket protection: the portfolio company´s raised capital will be transferred to an escrow account and will be freed based on the milestones deliveries. Holders verify milestones achievements to approve the capital release. If milestones are not achieved and the company is discontinued, side pocket capital will be locked and allocated to the next raise.
Compensation of Portfolio Companies' Management Team: voting consensus approves vesting schedule, quantity and milestones of CONG rewards to the new funded company´s team. Bonuses of operational team will be granted in form of CONG, this aligns entrepreneurs to the ecosystem which benefits holders as a whole.
Term-sheets: when a VC and/or PE fund provides a proposal to acquire tokens that represents +5% of the available supply, this needs to go for voting and the project team needs to provide info on the deal.
Deal flows: as to fund deals, new tokens may be generated, voting consensus approves if a new company funding deal goes to TCC platform.
The Team

The founders came from VC/PE industry and have worked for top-tier investment funds such as: Kaszek Ventures, Lightrock, Belfer Investments, Madrone Capital Partners, BTG Pactual, Global Endowment Mgmt, Omidyar Network, Endeavor Catalyst, Quebec Impact Assets and LTS Investments.
Moreover, they have raised roughly USD 200 million and participated in close to 800 M&A deals.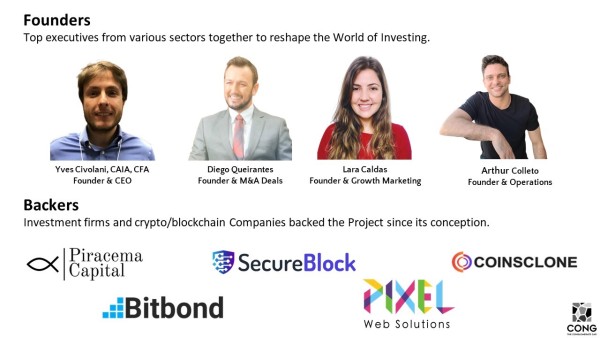 Exported from TCC & CONG presentation deck. Founders are former VC/PE industry executives. The project is backed by investment funds and other crypto companies.

Putting all together, the Team are extremely experienced which, compared to what we have seen recently regarding the crypto companies (e.g. SBF at FTX), sets the project at high bar.
Presale event

The CONG token presale event will start on January 16 at 9:00 GMT. As per company´s website, there will be other presale rounds afterwards which will have always a token price increase.
Conclusion and further analysis

Our group of journalists and blockchain experts who were asked to analyse the project and its token CONG, concluded what, crypto retail investors wanted to hear for a long time: finally, a strong and concrete project to be launched which can contribute to the return of crypto bull market periods that we all had seen nearly until a year ago.
We asked for an interview with the project´s founder and CEO, Yves Civolani, which will be arranged in a couple days and be published too.
Website: https://www.congcap.com/
Twitter: https://twitter.com/ConglomerateCap
Telegram: https://t.me/conglomeratecapgroup
Media Contact
Company Name: The Conglomerate Capital
Contact Person: Yves Civolani
Email: Send Email
Country: Brazil
Website: www.congcap.com/