ZIMMO FREEFOOT: Smart Wearable Foot Massager Launched on Kickstarter
Enjoy the comfort of a soothing foot spa anywhere with a smart wearable foot massager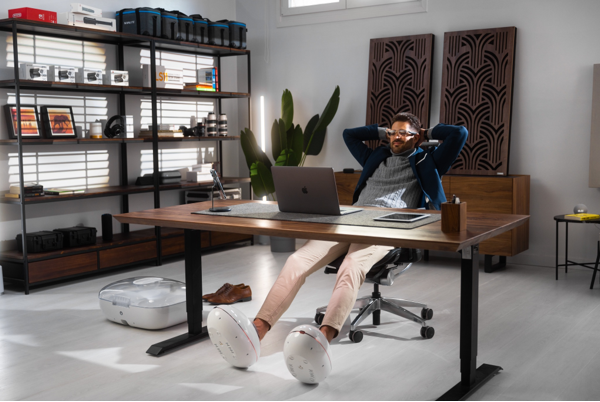 ZIMMO FREEFOOT has been launched today on Kickstarter, at <http://bit.ly/3URAM6K>, as the world's first wearable smart foot massage device designed to offer a seamless way for users to increase their feet wellness every day.
With 87% of Americans saying that they experience pain in their feet at some point in their lives, struggling with foot pain, stiffness, or aching, this device is aimed at changing the way people deal with this challenge. "Instead of coping with foot discomfort and pain, we want people to have an easy way of relaxing and taking good care of their feet," said the product manager of the ZIMMO campaign.
Unlike conventional foot massagers, ZIMMO lets users slide their feet into the device as if they were wearing shoes. The design of the device was created to have the user's feet wrapped by ZIMMO, providing a sense of comfort that is quickly enhanced by the actual massage they will receive. On this note, equipped with an airbag with two Deep-Kneading Nodes , "ZIMMO wraps the user's feet and ankles and it generates a therapeutic compression that relaxes your feet," added, also commenting that the device targets the foot reflex zones and massage points that are required to deliver a foot wellness experience similar to the one that professional massage therapists would deliver.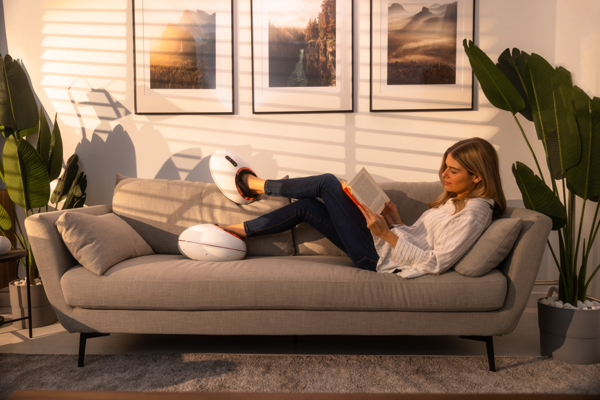 In terms of design, ZIMMO features a Split Design embodied in an eggshell shape. The user can simply remove the device from the charging base, and decide if they want to use it on both feet, or just have a single foot massage. This is an easy to use, easy to store, and easy to carry device that can be used anywhere: at home, at the office, or at the gym.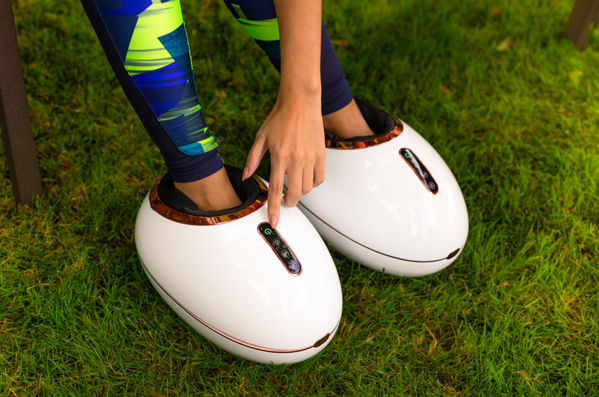 The interface is extremely simple and straightforward. A simple menu lets the user select one of the four massage modes, adjust the massage intensity, activate the heating massage function, and turn the device ON or OFF. This can be manually adjusted on the device, or conveniently from a remote control.
ZIMMO also introduces significant improvements when compared to competitors by using two brushless motors that never get stuck and are never interrupted. "This translates into a foot massage that is stable, smooth, and uniform," said Mr.Gu
ZIMMO is equipped with a 5200mAh battery that charges quickly in about 1 hour. Once it's charged, ZIMMO can support 4 to 6 15-minute massage sessions per charge. Also, its one-size-fits-all design should also be enticing to different users since ZIMMO is suitable for feet of all sizes—up to EU 45.
The ZIMMO FREEFOOT: Smart Wearable Foot Massager campaign on Kickstarter at <http://bit.ly/3URAM6K> is seeking to raise $3,000 to fund the large-scale production of the device, which will be offered early and for a special price to the backers who support the campaign.
About ZIMMO TECHNOLOGY
ZIMMO TECHNOLOGY LIMITED is a technology enterprise founded by tech entrepreneurs focusing on innovation, research and development of wearable devices in the field of personal care and health.
For more information, please visit <http://bit.ly/3URAM6K> or contact ZIMMO campaign creator, on +86-15201208741 or at [email protected]
Media Contact
Company Name: ZIMMO TECHNOLOGY LIMITED
Email: Send Email
Phone: +86-15201208741
Country: China
Website: http://bit.ly/3URAM6K