Inspired by Racing, the New GT Chrono Watch Series from WISHDOIT is Now Online for Sale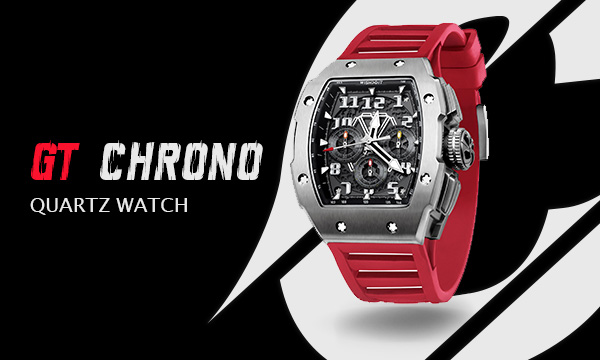 WISHDOIT has launched its new GT Chrono Watches, a collection inspired by Racing. They had previously launched the Pirate Tonneau series, and the X-series, both of which saw worldwide success. With its new GT Chrono Series, the brand tries to grab the attention of sports lovers with intricate craftsmanship and a sturdy body built to last.
The design of GT Chrono Series – a new sports quartz collection inspired by racing cars, and mainly by the movie 'Death Race'. Its dial adopts the dashboard of racing elements, and the watch mirror is built using sapphire glass. The GT Chrono series watch adapts a Japanese multi-function Seiko movement, the serial number of which is VD53, the quartz watch comes with a Sony battery. The mechanical look of WISHDOIT watches has always been its unique selling point, and the same has been kept intact in the GT Chrono series too.
The GT Chrono Series is a premium high end quartz series owing to its unique features and the material used in building its body. The watch comes at a price of $229. However, the makers offer an instant 25% off 'Early Bird' discount, therefore the discounted price comes down to $169. The stock is limited to last only three days, so those who want to avail the discount, should hurry up to catch it.
WISHDOIT was started in 2012 by Patrick Lee after seeing the worst economic crisis in his life in 2008 and recovering from bankruptcy. The company spent the next 3 years developing its quality and building a brand. After that, the company cut down all the middlemen in the business and had only one goal: "Exquisite products delivered at an unrivaled value." The brand has emerged as one of the biggest players in the affordable luxury watch segment.
"WISHDOIT means, 'I wish to do it'. In the business process, we've been encouraged by the experiences of those challengers and go-getters, who inspire us – keep the passion for what you wish to do and stick to it. I'd like to share with you a saying from Romain Rolland that I like very much: "There is only one heroism in the world, to see the world as it is and to love it." Be your life's hero. It seems small but powerful." – Patrick Lee, Founder, and CEO of WISHDOIT.
The company offers free shipping worldwide, a 5-years warranty, and a 180-day return policy.
To learn more, contact the media outlets below:
Media Contact
Company Name: WISHDOIT INC.
Contact Person: Benjamin Donnelly
Email: Send Email
Address:1309 Coffeen Avenue STE 1200
City: Sheridan
State: WY 82801
Country: United States
Website: https://wishdoitwatches.com/