Hynik Alviera air purifier keeps indoor air fresh, clean and safe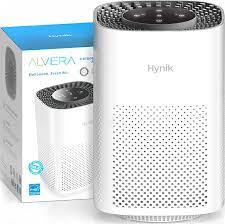 New York, NY – August 16, 2022 – Over the last two years we have all become aware of the illnesses and damage that harmful components in the air can cause. Between pollen, wildfire smoke, pollution, bacteria, mold spores, dust, and pet allergens, the air we breathe is full of pollution that can make it difficult to breathe or worse, could cause illnesses or trigger allergies. While technology exists that can clean the air in our home, top-of-the-line filtration systems can be prohibitively expensive. Now one company, Hynik, has launched the affordable Alviera air purifier with a three-stage H13 true HEPA filter.
The Alviera air purifier is compact and can fit comfortably even in the smallest bedrooms. The H13 True HEPA Filter works alongside a pre-filter and high-efficiency activated carbon filter to capture 99.97% of airborne particles up to 0.3 microns small. The Alviera refreshes the air five times per hour in rooms up to 219 square feet and three times per hour in rooms as large as 397 square feet.
"Our home's air quality is essential to enjoying our home," explains Simon Wagner, Hynik Marketing Manager. "When we walk in the door after a long day at work, we want to smell fresh, clean air that doesn't carry the smells and odors of last night's cooking. We want to ensure that our children play and sleep in safe air that isn't making them sick with allergens or pollen. The Alviera air purifier with its HEPA filter is small enough and affordability enough to keep several air filters throughout your home."
The Alviera air purifier is also cost-effective and energy efficient to run. The filter needs less energy to run than a light bulb and meets the Environmental Protection Agency's strict requirements. The built-in advanced Quietter Gen 2.0 noise reduction technology, ensures that the filter generates less than 24 decibels of noise ensuring the Alviera air filter won't disturb your sleep.
The Alviera air purifier can also help set the mood in users home's thanks to its soft mood lighting and the ability to add essential oils to the aroma pad. Aromatherapy enthusiasts can add stimulating mint essential oil to help wake them and let them focus on work or a few drops of soothing natural lavender oil to help ease them to sleep. The Alviera air purifier even comes with a luxurious eye mask to ensure peaceful sleep while enjoying the fresh, clean air of the Alviera air purifier.
The Alviera air purifier has hundreds of five-star reviews and is well loved by its loyal fans who praise its affordability, easy set-up, modern aesthetic, and excellent air filtration.
To purchase the Alviera air purifier, simply visit the Hynik Amazon store, or go directly to the Hynik store.
For the latest information, upcoming sales, and to keep up with new product launches, visit https://hynik.net.
Media Contact
Company Name: Hynik
Contact Person: Simon Wagner
Email: Send Email
Country: United States
Website: https://hynik.net