Alpha Car Hire Upgrade Their Fleet to Accommodate Melbourne Airport's Increase in Business
Alpha Car Hire replace nearly two-thirds of their vehicles as Melbourne airport welcomes more visitors.
Melbourne, Australia – 19th January, 2022 – The Australian tourism industry is starting to recover from the effects of the pandemic as 2022 begins. Like all airports, Melbourne's Tullamarine Airport has struggled over the last couple of years with the restrictions on travel. Melbourne Airport is the second most used airport in Australia, and the Melbourne to Sydney route is usually one of the busiest air routes in the world. However, the figures for the number of passengers passing through in 2021 were similar to those last recorded almost 40 years ago! Thankfully things are starting to get busy again.
The impact of the removal of travel restrictions between Victoria and New South Wales and the re-opening of the international border to fully vaccinated Australians on November 1st could be seen immediately. According to Lorie Argus, Melbourne Airport Chief of Aviation, "In just the first eight days of November, we welcomed more passengers through the airport than in the entire month of October. We expect those domestic numbers will keep growing as airlines ramp up services."
As Melbourne Airport becomes busier, local tourism businesses are also getting ready to welcome visitors. Alpha Car Hire is no exception, and they are looking forward to getting back to full capacity. Alpha Car Hire has taken advantage of the lower number of tourists during the pandemic to overhaul their fleet, replacing nearly two-thirds of their vehicles and providing customers with a better driving experience. "We wanted to make sure that when things got busy again, and tourists returned to Melbourne, we could offer modern, reliable vehicles to give visitors the best drive possible," explains Magdalena Kusyk, Chief Marketing Officer of Alpha Car Hire.
As any money-saving expert will tell you, there are many advantages to choosing a local car rental company located near the airport. On average, using one of the Melbourne airport car hire companies costs 20 percent more. There are often extra charges on top for the convenience of picking up a car from the airport. "We are a local Australian company, and we believe we offer better customer service and more affordable car rental than the international corporations," says Magdalena.
Further encouraging news is that Qantas and Bamboo Airways have new routes planned for Melbourne Airport. Qantas has already resumed regular scheduled international flights out of Melbourne, and they have added a flight four times a week from Melbourne to Delhi. Bamboo Airways are Vietnam's newest airline, and they are the first new foreign carrier to serve Melbourne Airport since the start of the Covid-19 pandemic. They have made Melbourne their Australian headquarters and have begun regular non-stop services between Melbourne and Ho Chi Minh City. "Attracting international carriers and new destinations is key as we rebuild from Covid-19 and every new airline sends a clear message to the world that Melbourne is open and ready to welcome visitors once more," said Lorie Argus.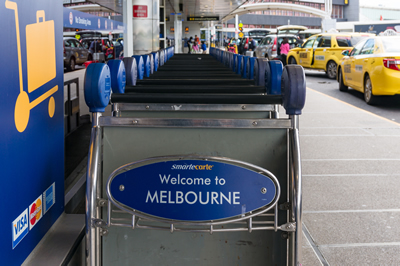 Alpha Car Hire is looking forward to welcoming more international visitors. "We specialise in airport car rental," Magdalena tells us. "We know how it feels to get off a flight, and you just want to get to your destination as quickly and simply as possible." Alpha Car Hire's complimentary shuttle takes customers to their offices in under 10 minutes from the terminal. "Our friendly staff are very experienced and will do everything they can to make your trip to Melbourne enjoyable. As well as benefitting from lower prices you also get the advantage of our local knowledge. We are happy to help with everything from explaining how to make Melbourne's notorious hook turn to the best place to get a cup of our famous coffee. There's no need to worry if your flight is running late or if you need to pick up your car outside of normal business hours as we are used to these circumstances. Just give us a call, and we will have you sorted in no time."
Melbourne Airport is enjoying a well-earned reputation for excellence. Melbourne has been named the Best Airport in Australia/Pacific in the Skytrax 2020 World Airline Awards for two years running, taken from travellers' feedback in the world's largest aviation customer survey. Melbourne was also awarded the Skytrax COVID-19 Excellence Award in recognition of the high health, hygiene, and safety protocols put in place in response to the pandemic. Melbourne Airport is currently halfway through a $30m revamp that will only improve its facilities even more.
Both Alpha Car Hire and Melbourne Airport have taken the opportunity during the pandemic to invest in their infrastructure so that, as they welcome increasing numbers of tourists and business travellers, they can provide the best possible service.
Media Contact
Company Name: Alpha Car Hire
Contact Person: Magdalena Kusyk
Email: Send Email
Phone: +61 1300 227 473
Address:511B Nudgee Rd Hendra
City: Brisbane
State: Queensland
Country: Australia
Website: https://alphacarhire.com.au