CABLESS Launches on Kickstarter to Offer 15-in-1 Wired and Wireless Charging
World's first cable supporting 100W power transfer is a single cable that covers any modern gadget's charging requirements
CABLESS, a 15-in-1 Wired and Wireless Charging Cable that allows users to charge almost any device with only one cable, has been launched on Kickstarter now, at < https://www.kickstarter.com/projects/692076889/cabless-15-in-1-wired-and-wireless-charging-cable?ref=dk43wi>. "We're returning efficiency to charging technology. Different ports and different devices are fine, as long as only one system allows to charge them, and that's what we created.
CABLESS is designed with a high-strength wire cord that unfolds whenever it is used to charge a device in a wired way through one of its plugs. The wire perfectly bounces back to its curl position and it's ready to charge any compatible device wirelessly. "It really is that simple. The same cable allows for wired and wireless charging with the only difference that it reaches a charging speed that outperforms conventional chargers," CABLESS features a WPC Ferrite cover that supports true high-speed wireless charging that is 20% to 40% faster than other supposedly fast chargers.
The charging system can charge a wide universe of devices, from smartphones, including iPhones, to cameras and laptops, among many other gadgets. With CABLESS, a user can charge 15 types of devices using 6 different plugs and 3 charging modes. "No collection of expensive cables is necessary, making CABLESS an affordable solution that doesn't almost take any space and that also saves the user a lot of time," the representative further noted.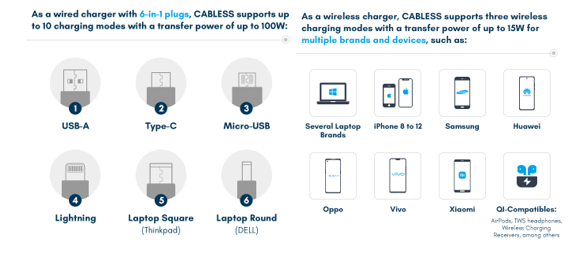 Also exploring the sustainability angle, the entire structure and parts of CABLESS are made from eco-friendly materials. The device is also intended to downsize the charging experience in the sense that its compact design allows the user to explore every aspect of charging requirements with a tiny system that fits into a pocket.
The CABLESS campaign on Kickstarter at < https://www.kickstarter.com/projects/692076889/cabless-15-in-1-wired-and-wireless-charging-cable?ref=dk43wi > is seeking to raise $10,000 to fund the large-scale production of the cable. Backers who support the campaign gain early and discounted access to the product.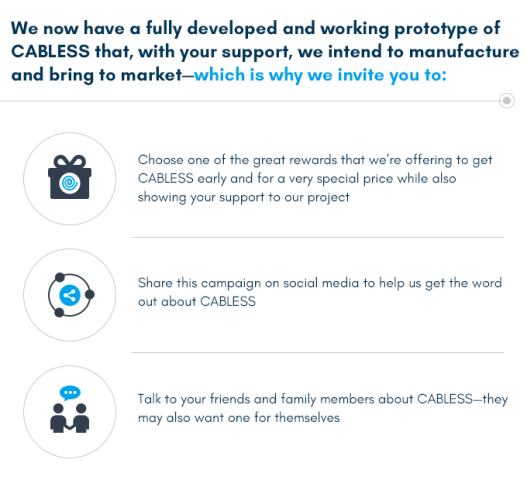 About the Company
CABLESS is developed by a startup focusing on unique high-tech accessories. Our team is comprised of product design, engineering, and manufacture professionals who worked with high-profile brands such as SAGEM, BIRD, FLY, and others. CABLESS embodies the concept of versatility, simplicity, and efficiency in the world of charging—perfectly expressing the mission of our company.
For more information, please visit <https://www.kickstarter.com/projects/692076889/cabless-15-in-1-wired-and-wireless-charging-cable?ref=dk43wi> or contact Person Michael He, on [email protected]
Media Contact
Company Name: CABLESS
Contact Person: Michael He
Email: Send Email
Country: China
Website: https://www.kickstarter.com/projects/692076889/cabless-15-in-1-wired-and-wireless-charging-cable?ref=dk43wi