Grow crops in containers. Korean smart farm company, Design Farmers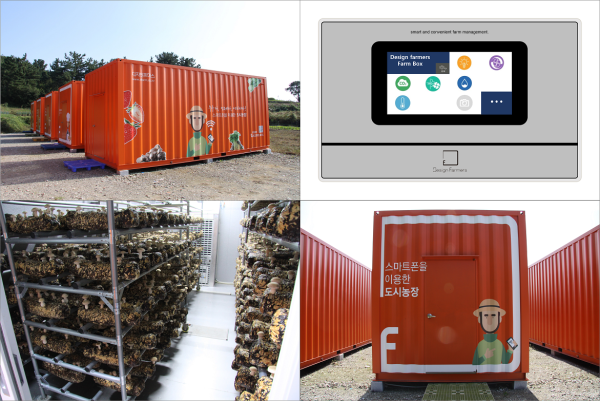 Recently, Design Farmers has been gaining a lot of attention due to their efforts to make smart farms easier for everyone. They are working hard for better smart farm technology with their ICT convergence, data management, and the operation of remote control systems and sensors.
Smart farm Anytime, Anywhere, Anybody
Smart farm refers to a new type of farming where the user can save labor and energy while improving productivity and quality based on the accurate data accumulated about crop growth environment.
The leading company of green farm business, Design Farmers develops the technology that everyone can easily use anytime and anywhere. It provides information about the optimum environment for crop growth to improve crop production. It strives to create a world that provides fresh and reliable agricultural products in places near consumers.
Design Farmers has three management principles. 3A = Anytime, Anywhere, Anybody, which present their efforts to provide a smart farm system that anyone can easily access for agricultural activities anytime and anywhere. Based on these three principles, their services are created and provided. If consumers want, they can immediately purchase the system, which would enable them to engage in rapid production activities. To this end, it provides an advanced urban agricultural system that is available for everyone.
User-focused technological development and customer-centered product development
Design Farmers supports small-scale farming. With the container-type smart farm system that improves the production efficiency for each crop, various crops can be efficiently grown in their 20ft and 40ft containers.
Their smart farm system for small-scale farming that helps grow crops and secure productivity in a small urban area provides services that smart farm beginners can easily use without any worries. In addition, the environment data is managed continuously to secure productivity, leading to an increase in added value of the user. Just by installing it in unused areas like the yard of a house, and a small area in restaurant parking lot and offices, the user can grow safe and fresh crops to eat that are not affected by the external environment.
Farm Box, a self-developed environment controller, is designed for non-professionals who want to cultivate crops easily. Due to its simple user-focused interface and detailed user manual, anyone can easily operate the controller and apply the growing information to crops in a convenient manner.
Design Farmers has received confirmation for their advanced technology to secure technological competitiveness. It is recognized as a research company and has established a company-affiliated research institute while registering 4 technology patents, 8 trademarks, and 2 design patents. It is continuously working hard to develop better products.
Small container-type smart farm system
Their container-type remote control smart farm system is a Korean system that controls the elements needed by crops for growth, such as temperature, humidity, CO2, and light. In addition, the user can check and control the state of plants online, such as the website and smartphone.
By utilizing the characteristics of a container, it's easy to install, move, and demolish the system. Its closed system isn't affected by the external environment, so it's safe from climate change and natural disasters. The user can also grow crops in a clean environment without any heavy metals and yellow sands in the air. Due to a self-developed environment controller and farm cloud system, the user monitors the state of crops in real-time and remotely controls the system in a stable manner even when traveling far away. In addition, the right amount of energy is used compared to an open field and greenhouse systems by reducing heating and cooling energy costs, water consumption, and unnecessary energy waste. That's why it's emerging as a future technology in the industry.
Step further into the world from Korea
As the completed smart farm system is installed in an unused area, the user can conveniently grow crops. It's possible to grow crops that can only be grown in a specific climate so various crops can be grown. In addition, the small-scale smart farm can be used for young students to experience future agriculture, which can be used for educational purposes. An official from Design Farmers said, "Once the pandemic situation comes down and we are allowed to operate flights, it's expected to produce better results through active overseas marketing and sales." Through this, we would be given an opportunity to promote Korean-type smart farm."
Media Contact
Company Name: Design Farmers
Contact Person: Shim A Yeon
Email: Send Email
Phone: +82 63-902-0414
Country: South Korea
Website: www.dfarm.co.kr