Multi-Glider Touted As World's first 2-in-1 Shaver and Nose hair trimmer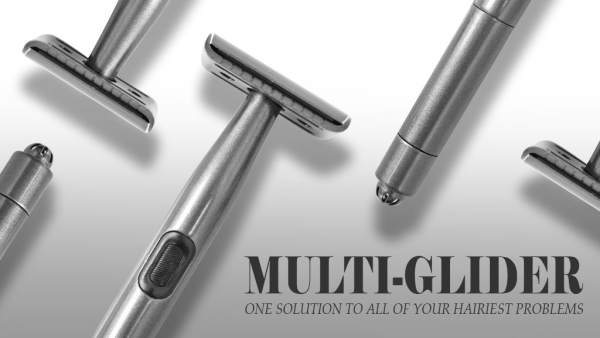 Allbutton launches kickstarter for electric Multi-Glider shaving stick with LED indicator lights, dual motors, and vibration mode.
Allbutton is delighted to announce the launch of a Kickstarter campaign to help produce its dual-purpose electric shaving stick called Multi-Glider.
According to the company, the Multi-Glider was developed as a comprehensive solution for dealing with moustaches and nose hairs. Engineered with convenience in mind, the Multi-Glider will enable users to smoothly shave off facial hairs and tackle annoyingly long nostril hairs safely and healthily.
While most combination products present a serious challenge switching from one function to the other – with some even requiring users to change out parts, the Multi-Glider offers an easy click-to-switch feature that lets users instantly move from razor to nose hair remover – guided by LED alert lights.
Additionally, the new product is designed to accommodate regular double-edge blades readily available at drug stores for only 10 cents – as opposed to mainstream cartridges that cost as high as $5.
Assuring users that it completely understands the importance of smooth healthy skin, Allbutton hints that it programmed vibration mode into the Multi-Gliders to reduce the friction between the razor blade and the skin, and provide a comfortable and even relaxing shaving experience.
Although the Multi-Glider sports dual motors, the company has revealed that the function is not to increase power but to facilitate the smooth and seamless transition between modes.
While most people spend a lot of time in front of the mirror, trying to pull out nose hairs with their fingers or with the help of tweezers, Allbutton wishes to remind everyone that nostril hairs serve an important role as filters for the air when breathing. It adds that completely pulling them out won't only hurt but also expose the lungs to viruses and other toxins floating in the air.
As such, the Multi-Glider nose hair remover comes in an intuitive design that allows users to conveniently keep hairs in their nostrils at short comfortable lengths, without compromising the organ's ability to filtrate.
The Multi-Glider is made out of ABS and Aluminium, is waterproof, and runs on a single AAA battery that eliminates charging problems.
"We devoted all our time and effort developing the Multi-glider over the past year. Thanks to 3D-printing, we were able to create several prototype iterations, conduct extensive product testing, and refine every aspect of the design to ensure comfort, style, and functionality."
Allbutton enjoins everyone who finds the Multi-Glider fascinating to not only make contributions, but also share the campaign on their social media platforms, to help more people become aware of an easier solution to tackling facial hair.
The Multi-Glider goes for $41 USD on Kickstarter and will go on to retail for $60 when it hits stores.
Media Contact
Company Name: Allbutton
Contact Person: Tae Choi
Email: Send Email
Country: South Korea
Website: https://www.kickstarter.com/