Prostate cancer Diagnosis, Treatment and Market Report 2030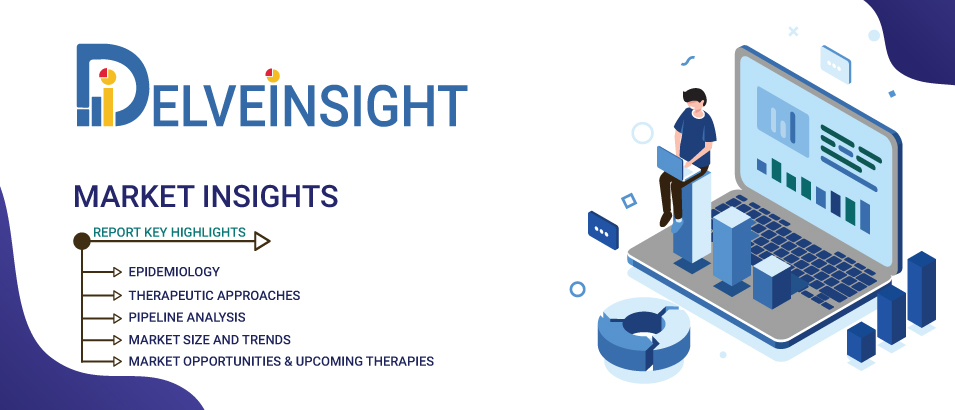 DelveInsight's "Prostate cancer Market Insights, Epidemiology, and Market Forecast-2030″ report delivers an in-depth understanding of the Prostate cancer, historical and forecasted epidemiology as well as the Prostate cancer market trends in the United States, EU5 (Germany, Spain, Italy, France, and United Kingdom) and Japan.
Prostate Cancer Overview
Prostate cancer a type of malignancy that occurs in the prostate gland. The prostate is a small walnut-shaped gland in men that produces the seminal fluid that nourishes and transports sperm. It is located next to the bladder and can be examined by getting a digital rectal exam. Prostate cancer is one of the most common types of cancer found in men. This cancer usually grows slowly and is confined to the prostate gland initially, where it may not cause serious harm.
According to the Cancer Treatment Centers of America (CTCA), more than 99% of prostate cancers are adenocarcinomas, which develop in the gland cells. It is common in men of 50–64 years and over age 65; however, it can occur in men younger than 50 years. Symptoms of adenocarcinoma of the prostate include blood in the semen, frequent urge to urinate, and painful urination and ejaculation. The symptoms of prostate cancer do not usually appear until the prostate is large enough to affect the tube that carries urine from the bladder out of the penis. Clinical Stage and treatment pattern are key factors in Prostate Cancer.
Download sample report- Prostate Cancer Market Report
Some of the key highlights of the Prostate Cancer market report
The total prevalent cases of Prostate Cancer in the 7MM were observed to be 6,985,331 cases in 2018.
The highest number of prevalent cases was observed in the United States with 3,266,625 cases in 2018 which will increase during the study period (2018–2030).
According to DelveInsight's analysis, nearly 60 percent of Prostate Cancer cases diagnosed during localized or locally advanced stage (Stage I-III) in the United States.
Prostate Cancer Symptoms
The symptoms of prostate cancer are not apparent in the early stages of the disease. Due to the proximity of the prostate gland to the bladder and urethra, prostate cancer may be accompanied by a variety of urinary symptoms, especially in the early stages. Depending on its size and location, a tumor may press on and constrict the urethra, inhibiting the flow of urine. Furthermore, Prostate cancer may metastasize and form tumors in nearby organs or bones. If cancer spreads to the spine, it may press on the spinal nerves. Symptoms of Prostate Cancer often differ from patient to patient.
Treatment options of prostate cancers include mainly hormonal therapies (also known as androgen-deprivation therapy or ADT), chemotherapy, immunotherapy, radiation therapy, and surgery. For localized or locally advanced prostate cancer has active surveillance, surgery, and radiation therapy is the three major treatment options.
Prostate Cancer Market Insights
There are several treatment options available to treat this condition in the seven major markets. For men with low-risk disease who decide not to undergo immediate radical treatment for prostate cancer, active surveillance has emerged as the preferred standard of care.
Prostate Cancer Market Size
The total market size of Prostate Cancer in the 7MM was found to be around USD 8,042.7 million in 2020. According to DelveInsight's estimation, the overall market size in the seven major markets for Prostate Cancer is anticipated to increase, and this will further contribute to the overall market size.
Request sample report- Prostate Cancer Market Outlook
Table of content
1. Key Insights
2. Executive Summary of Prostate Cancer
3. SWOT Analysis of Prostate Cancer
4. Prostate Cancer Market Overview at a Glance
5. Prostate Cancer: Disease Background and Overview
6. Diagnosis of Prostate Cancer
7. Epidemiology and Patient Population
8. EU-5 Country-wise Epidemiology
9. Current Treatment Practices: Prostate Cancer
10. Guideline of Prostate Cancer
11. Unmet Needs of Prostate Cancer
12. Marketed Therapies
13. Emerging Therapies
14. Prostate Cancer: Seven Major Market Analysis
15. 7MM Market Size
16. Market Access and Reimbursement of Prostate Cancer
17. Market Drivers of Prostate Cancer
18. Market Barriers of Prostate Cancer
19. Appendix
20. DelveInsight Capabilities
21. Disclaimer
22. About DelveInsight
About DelveInsight
DelveInsight is a Business Consulting and Market research company, providing expert business solutions for life science vertical and offering quintessential advisory services in the areas of R&D, Strategy Formulation, Operations, Competitive Intelligence, Competitive Landscaping, and Mergers & Acquisitions.
Contact Us
Yash
Media Contact
Company Name: DelveInsight Business Research LLP
Contact Person: Yash Bhardwaj
Email: Send Email
Phone: +919650213330
Address:304 S. Jones Blvd #2432
City: Las Vegas
State: NV
Country: United States
Website: https://www.delveinsight.com/