Stainless Steel Market is expected to grow at 5.5% CAGR over 2021 -2031
Stainless steel market is anticipated to reach US$ 193.97 Bn by the end of 2031 owing to the increasing demand from various industries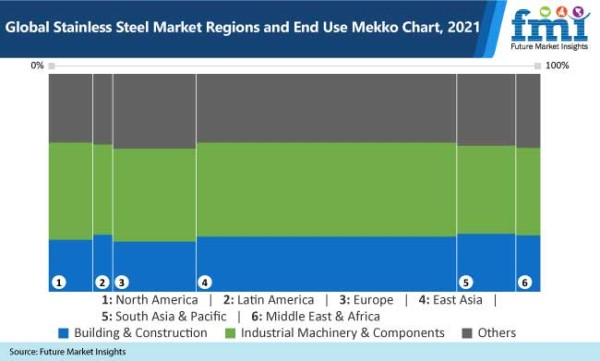 Increasing demand of stainless steel from industries such as chemical, construction, petroleum is expected to drive the demand.
Future Market Insights, Dubai: ESOMAR-certified consulting firm Future Market Insights (FMI) has conducted a research study on global stainless steel market for the forecast period of 2021-2031. As per FMI's analysis, growing demand of stainless steel in industries such as industrial machineries, chemical, food & beverages and more is accelerating the growth. Various application of stainless steel for manufacturing and production of equipment and tools is expected to drive the market. Furthermore, demand for sustainable products and renewable energy production has encouraged manufacturers to invest more in research and development activities. Hence, accelerating the growth of stainless steel.
According to FMI, key players are switching towards the development of products and technologies with low carbon emission. Thereby, increasing the application of stainless steel in developing green technology used for geothermal, solar and wind power plant. On the back of these factors, the global stainless steel market is poised to expand at 5.5% CAGR to reach a value of US$ 193.97 Bn by 2031.
"Increasing application of stainless steel in chemical industry as mining and chemical equipment and storage tanks in manufacturing and construction industry is propelling the growth," remarks the FMI analyst.
Request a report sample with 280 pages to gain comprehensive insights at https://www.futuremarketinsights.com/reports/sample/rep-gb-13116
Key Takeaways
Austenitic stainless steel will remain top selling accounting for over 77% of global market share
Increasing demand from chemical and petroleum industry is augmenting the tubular products sales of stainless steel
Industrial machinery is expected to be the top end-user segment backed by the rising demand of stainless steel in manufacturing sector
China will retain its dominance during the forecast period backed by the growing end-user industries such as chemical, automotive and others
The U.K. and Italy collectively to lead the Europe stainless steel market backed by the development in construction and infrastructure sector
India is anticipated to be one of the fastest growing countries in the global stainless steel market
High demand of stainless steel from automotive and construction sector is providing lucrative growth opportunities across Japan for market players
Prominent Drivers
Rising demand of stainless steel with end-use industries such as building & construction, automotive and other industry is boosting the demand
Increased offshore spending and rising potential in industrial machinery & oil field discovery is likely to accelerate the growth
Discover more about the stainless steel market with figures and data tables, along with the table of contents. You will also find detailed market segmentation on https://www.futuremarketinsights.com/reports/stainless steel-market
Key Restraints
Increasing cost of raw materials for manufacturing duplex stainless steel will obstruct the demand
Oversupply due to massive production of stainless steel has resulted in fall of prices which is creating a challenge for market players
Competitive Landscape
ArcelorMittal, Nippon Steel Corporation, POSCO, JFE Steel Corporation, AK Steel, Thyssenkrupp AG, Hyundai Steel Co. Ltd., Outokumpu, Acerinox, Yieh United Steel Corp., Baosteel Group, Aperam, Jindal Stainless Limited, Gerdau, and Vallourec among others. Prominent players are focusing on research and development activities for developing new products, solutions and technologies for end-user specifications. According to FMI, the market seems to be dominated by very few prominent players across the globe. Top tier companies are branching out with strategic collaborations and acquisitions to maintain their position in the industry.
For instance, on May 3rd 2021, Nippon Steel and the former Nippon Steel Nisshin Co. Ltd announced the launch of ZAM®-EX, highly corrosion-resistant coated steel sheets for overseas market.
Also, in May 2021, Sandvik and part subsidiary BEAMIT Group announced a unique capability to additively manufacture components in super-duplex stainless-steel, an alloy combining mechanical strength with high corrosion resistance.
For any Queries Linked with the Report, Ask an [email protected] https://www.futuremarketinsights.com/askus/rep-gb-13116
More Insights on FMI's Stainless steel Market
In its latest report, Future Market Insights provides an exhaustive analysis on the key growth drivers and factors affecting the global stainless steel market over the forecast period of 2021 and 2031. To gain a better understanding on the markets' key segments and sub-segments, FMI has segregated the market on the basis of type (austenitic stainless steel, ferritic stainless steel, duplex stainless steel, martensitic stainless steel, and precipitation hardening stainless steel), form (flat products, long products, and tubular products), end-use (building & construction, industrial machinery & components, automotive & transportation, home appliances, cookware & cutlery, medical & surgical tools and others) and regions (North America, Latin America, Europe, East Asia, South Asia Pacific, and Middle East & Africa).
Media Contact
Company Name: Future Market Insights
Contact Person: Ankush Nikam
Email: Send Email
Phone: +442076928790
Address:3rd Floor, 207 Regent Street
City: London
Country: United Kingdom
Website: https://www.futuremarketinsights.com/reports/stainless-steel-market