PARP Inhibitors Pipeline Insights and Report 2021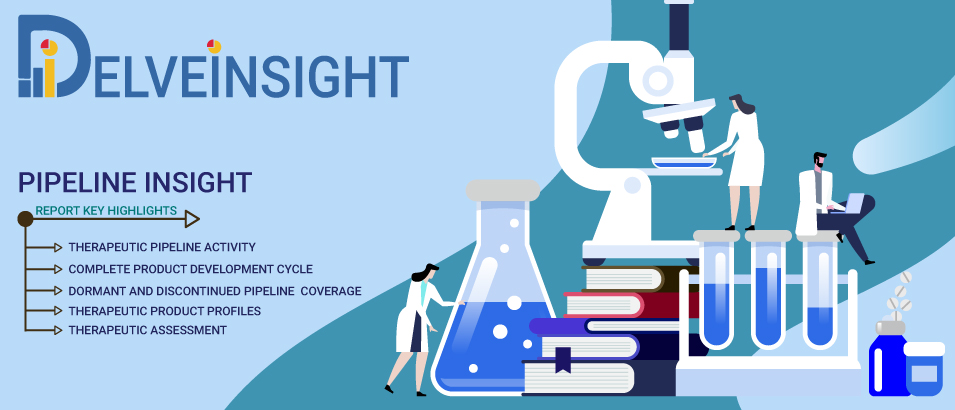 DelveInsight's, "PARP Inhibitors Pipeline Insights, 2021," report provides comprehensive insights about 30+ companies and 30+ pipeline drugs in PARP Inhibitors pipeline landscape. It covers the pipeline drug profiles, including clinical and nonclinical stage products. It also covers the therapeutics assessment by product type, stage, route of administration, and molecule type. It further highlights the inactive pipeline products in this space.
PARP Inhibitors Overview
PARP is a family of proteins loosely based on structural similarity and function. PARP proteins are composed of two ribose moieties and two phosphates per unit polymer. PARP1 and PARP2 are enzymes involved in a DNA repair pathway for SSBs called BER. The best-known PARP is PARP1. This enzyme was first reported in 1963. In 1980 Durkacz et al. proposed that modulating PARP1 might augment the effect of alkylator chemotherapy.
Download Sample Report– PARP Inhibitors Market Pipeline
TESARO
AstraZeneca
Sun BioPharma
Eisai Co
BeiGene
IMPACT Therapeutics
Ribon Therapeutics
PARP Inhibitors Pipeline Report
This segment of the PARP Inhibitors report encloses its detailed analysis of various drugs in different stages of clinical development, including phase II, I, preclinical and Discovery. It also helps to understand clinical trial details, expressive pharmacological action, agreements and collaborations, and the latest news and press releases.
PARP Inhibitors Emerging Drugs
Pamiparib: BeiGene
Pamiparib (BGB-290) is an investigational small molecule inhibitor of PARP1 and PARP2. Pamiparib is being evaluated as a monotherapy in pivotal clinical trials in China in recurrent platinum-sensitive and BRCA1/2 mutated ovarian cancers. It is currently in global clinical development as a monotherapy, and in combination with other agents, including BeiGene's investigational anti-PD1 antibody, tislelizumab (BGB-A317), for a variety of solid tumor malignancies.
PARP Inhibitors Pipeline Development Activities
The report provides insights into different therapeutic candidates in phase II, I, preclinical and discovery stage. It also analyses PARP Inhibitors therapeutic drugs key players involved in developing key drugs.
PARP Inhibitors Pipeline Development Activities
The report covers the detailed information of collaborations, acquisition and merger, licensing along with a thorough therapeutic assessment of emerging PARP Inhibitors drugs.
Request Sample Report– PARP Inhibitors Pipeline Insights
Table of content
Introduction
Executive Summary
PARP Inhibitors: Overview
Pipeline Therapeutics
Therapeutic Assessment
PARP Inhibitors – DelveInsight's Analytical Perspective
In-depth Commercial Assessment
PARP Inhibitors Collaboration Deals
Late Stage Products (Phase III)
Pamiparib: BeiGene
Mid Stage Products (Phase II)
Drug Name: Company Name
Pre-clinical and Discovery Stage Products
Drug Name: Company Name
Inactive Products
PARP Inhibitors Key Companies
PARP Inhibitors Key Products
PARP Inhibitors- Unmet Needs
PARP Inhibitors- Market Drivers and Barriers
PARP Inhibitors- Future Perspectives and Conclusion
PARP Inhibitors Analyst Views
PARP Inhibitors Key Companies
Appendix
PARP Inhibitors Pipeline Report Highlights
The companies and academics are working to assess challenges and seek opportunities that could influence PARP Inhibitors R&D. The therapies under development are focused on novel approaches for PARP Inhibitors.
July 2020: Oncology Venture announced that it has secured the remaining ownership in its priority PARP inhibitor (2X-121) program along with its 2X-111 program, by acquiring all outstanding shares in Oncology Venture US Inc. (formerly 2X Oncology, Inc.) from its external shareholders and warrantholders. As a result of the transaction, the Company now has 100 % ownership of 2X-121, which is being clinically developed as an anti-cancer therapeutic, as well as being tested as an anti-viral agent against COVID-19. Similarly, the Company now has 100% ownership of 2X-111, which is being clinically developed as an anti-cancer therapeutic via a recently announced license agreement with Smerud Medical Research International.
About DelveInsight
DelveInsight is a Business Consulting and Market research company, providing expert business solutions for life science vertical and offering quintessential advisory services in the areas of R&D, Strategy Formulation, Operations, Competitive Intelligence, Competitive Landscaping, and Mergers & Acquisitions.
Contact Us
Yash
Media Contact
Company Name: DelveInsight Business Research LLP
Contact Person: Yash Bhardwaj
Email: Send Email
Phone: +919650213330
Address:304 S. Jones Blvd #2432
City: Las Vegas
State: NV
Country: United States
Website: https://www.delveinsight.com/