The Strand Magazine, in Conjunction With MX Publishing, Expands to Support European Audiences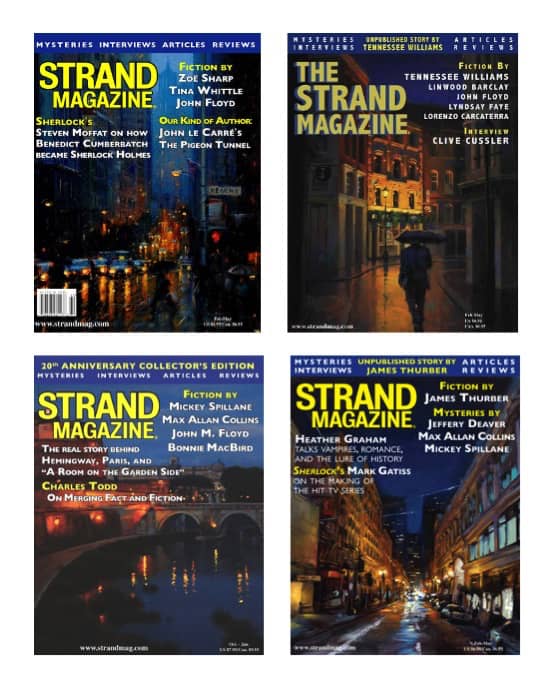 The Strand Magazine, the crime and mystery quarterly magazine is at it again! This time around, The Strand Magazine announces its international expansion with local distribution in Europe in order to cater to the European audiences. Being a quarterly, The Strand Magazine is one of the leading USA popular Crime and Mystery titles produced to thrill fans every three months.
The Strand Magazine offers the best of both worlds—publishing previously unpublished works by literary giants such as F. Scott Fitzgerald, John Steinbeck, Joseph Heller, Mark Twain, Tennessee Williams and H.G.Wells, as well as new works of fiction by today's bestselling authors such as Alexander McCall Smith, Michael Connelly, Joseph Finder and Jeffery Deaver.
"Unitl now, shipping rates have been prohibitive for European fans and it's time that European audiences of The Strand Magazine have the same opportunities as their American counterparts. With this new collaboration, we're reducing costs by over 25% for fans," said Andrew Gulli.
MX Publishing, based in London, focusses on Sherlock Holmes books, and will now be responsible for distributing for European audiences. The Strand Magazine publishes short stories, thrillers, mysteries, enlightening articles, exclusive interviews and book reviews so fits very well with MX Publishing's focus on mystery fiction.
"At The Strand Magazine, we are always after quality and great content and that is why our stories, interviews, book reviews and articles have always been known for exclusive content. Our vision aligns with MX, the largest publisher of Sherlock Holmes and that is why MX will be responsible for distribution of The Strand Magazine to European audiences at a reasonable price," Andrew Gulli concluded.
MX will also be stocking back issues too: https://mxpublishing.com/collections/the-strand-magazine
For more information:
URL: www.strandmag.com
E-mail: [email protected]
Contact person: Andrew Gulli
Phone: 001-800-300-6652
URL: www.mxpublishing.com
Email: [email protected]
Contact Person: Steve Emecz
Phone: 0044-7837-550025
About MX Publishing
MX Publishing brings the best in new Sherlock Holmes novels, biographies, graphic novels and short story collections every month. With over 500 books, MX is the largest catalogue of new Sherlock Holmes books in the world. We have over one hundred Holmes authors with the majority of them writing new Holmes fiction. In Holmes biography, we have internationally acclaimed and award-winning historians, including Alistair Duncan. MX is a social enterprise and support five causes through our activities. Founder Steve is a mentor and member of the External Advisory Council for the World Food Programme Innovation Accelerator, patron of Stepping Stones School for children with learning disabilities and mentor for Happy Life Children's Home in Nairobi in Kenya.
Media Contact
Company Name: The Strand Magazine
Contact Person: Andrew Gulli
Email: Send Email
Phone: 001-800-300-6652
Country: United States
Website: www.strandmag.com