New York Metro Area Fights COVID-19
A C3Research survey finds important information that could help public policy in fighting COVID-19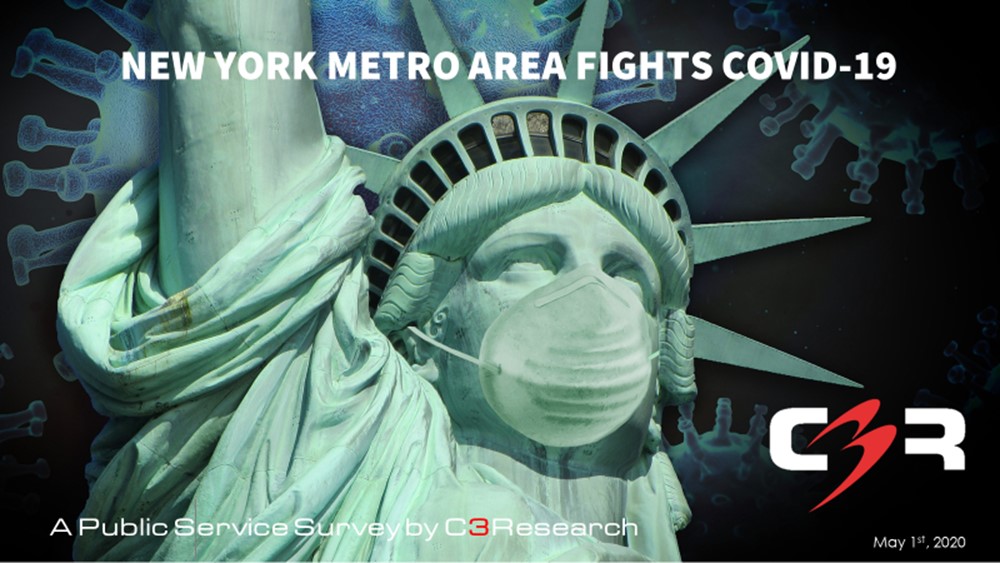 ORLANDO, FL – May 5, 2020 – New York metro area was the epicenter of COVID-19 in the month of April 2020. So, how was the public coping with the pandemic? C3Research, a marketing research company with operations in New York, conducted a pro bono survey from April 6th to 11th with a large sample size of 2996 adults in the New York metro area, including New York, New Jersey, Connecticut, and Pennsylvania. "Our doctors and nurses, police and National Guard, and grocery clerks and delivery service men and women are on the front line battling the virus and providing essential services to the nation. At C3Research, we felt we must do our bit to help," said Dr. Samar Das, CEO of C3Research.
The report covered a wide range of topics – from COVID-19 symptoms to hospital choice; rise of telehealth; adherence to coronavirus prevention guidelines; employment and economic impact; food supply chain; and health and financial worries. There are insights in the report that are relevant for public health officials, hospital systems, private sector companies, and government authorities.
Some highlights from the report:
COVID-19 could be lurking silently in the population. 25.9% of adults reported having at least one possible COVID-19 symptom as defined by the CDC, underscoring how hard it can be to detect COVID-19 in the population.
51% were not aware or not sure of a COVID-19 testing center. Even when the pandemic raged in the New York area with intensive news coverage, half of the population did not know or were not sure of a COVID-19 testing center in their area. As we move to reopen the economy, this could be a major issue in getting people tested on a large scale.
70% of COVID-19 positive cases were taking immunosuppressant drugs and 81% had underlying health conditions when they were diagnosed with COVID-19. A small subgroup of 114 respondents in the sample were COVID-19 positive cases. The prevalence of immunosuppressant drugs among COVID-19 patients was surprising and has not been reported earlier.
Close circle of friends / family / coworkers was cited most often as potential sources of infection. The COVID-19 positive cases in our sample felt they contracted the virus from "friends / family / coworkers" followed by "large gatherings / events / stores / restaurants / gyms". International and domestic travel were cited less often.
The tsunami of unemployment. 17% were already laid off or furloughed when the survey took place in early April. Additionally, 21% were working with reduced hours.
71% of layoffs / furloughs came from small businesses. Those who were laid off were employed primarily by small businesses with 30% of layoffs coming from businesses employing 10 to 100 employees.
Low income employees were hard hit. Low income employees (defined as making less than $75,000 income per annum) were 38% of the sample but constituted 60% of the group that was laid off / furloughed.
24% of the lower income group were working from home. This is in stark contrast to 46% of the higher income group who could afford to work from home.
Food supply chain is not yet broken, but face masks, wipes and sanitizers are in short supply. While respondents did not report any issues with food or essentials. However, face masks, disinfectant wipes, and hand sanitizers were in short supply in many homes. This could be a problem as shelter-in-place orders are lifted around the nation.
Telehealth is at an early stage of adoption but gathering momentum. About 69% are aware of telehealth, and only 13% have used it in the past, but 28% intend to use it in the future. Those intending to use telehealth in the future believe it saves time and hassle, and that the doctors on telehealth are as knowledgeable as doctors they see in person. They also think that telehealth is less expensive.
Most people are watching TV shows or streaming movies. 70% are watching TV shows other than news and / or movies over streaming services. About 42% are watching COVID-19 news on a regular basis.
Dr. Anthony Fauci gets star ratings. Dr. Anthony Fauci is rated uniformly "Very Good" in all four states. Other Local and State authorities also received good ratings with Governor Cuomo leading the other governors. President Donald Trump and Vice President Mike Pence received lower ratings in all four states.
The 62-page report is full of information and insights that could be helpful not only to authorities in the New York metro area but to the other states as well, as they fight COVID-19 now peaking in their area. The information could also be useful for health systems and private sector companies that are trying to formulate a response to the COVID-19 situation. C3Research is making the report available free of charge.
Please send an email to [email protected] from your official email requesting a copy.
About C3Research
C3Research is an advanced marketing research company specializing in brand strategy, digital media, and healthcare research. C3Research WebLab is a 6000 sq. ft state-of-the-art research lab based in Orlando, FL and has pioneered the concept of lab based experimental research for digital media with applications in consumer, healthcare, and technology marketing. Our clients include several Fortune 500 companies, healthcare systems, educational institutions, media and advertising agencies, and national retailers.
Visit www.c3research.com or www.c3rweblab.com for more information about the company.
Media Contact
Company Name: C3Research
City: Oviedo
State: FL
Country: United States
Website: www.c3research.com