Deltec Bank, Bahamas – AI in bringing in Productivity Banking and Finance
Artificial Intelligence has given the world of banking and finances the opportunity to transform banking operations by delivering efficient communication and services more smartly. As we continue to see today, banking customers are taking advantage of accessing their banking products and services through their mobile devices at home. By doing this, it delivers a new way of customers interacting with their money. Both banking and finance are now making their operations more intelligent and smarter through artificial-intelligence-based applications.
As we know it, the use of artificial intelligence is rapidly increasing. AI is being used by everybody, sometimes without evening knowing it. According to Deltec Bank, Bahamas – "The use of automation and the advancement of smart technologies is driving banking and finance into a new direction of managing customer demand."
We've put together a list of AI use cases within the banking and finance industry.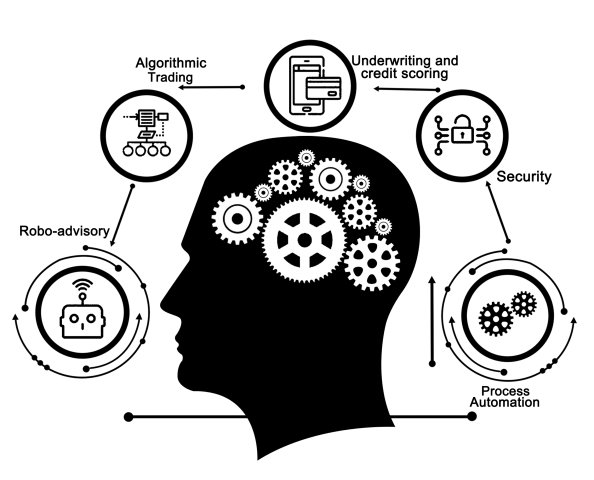 1. Virtual Assistants and Chatbots
Banking and Finance are now reaping the rewards as to how intelligent virtual assistants and chatbots can be, particularly when it comes to meeting customer demands and gaining insight into their behaviors and financial needs. Chatbots are transforming customer service in previously unimaginable ways. For example, customers can expect to interact with a virtual assistant to manage their queries and concerns immediately through real-time. Chatbots are also able to process incoming and outgoing payments whilst maintaining security by preventing fraudulent activity. Virtual Assistants and Chatbots can manage the capabilities of human to human interaction.
2. Process Automation
Before the rollout of AI, finance and banking were well-versed in using spreadsheets to manage financial data sets through a back-end workflow to process the data sets into their systems. No longer do banking and finance companies use spreadsheets. Through AI and machine learning, operational processes are transformed through the performance of automation tasks, such as administration and management of queries. Through automation, AI can perform an interpretation of data analysis to manage customer behaviors and trends, whilst predicting the services they require.
3. Stock Market and Investment Predictions
Many banking and finance institutions have benefited from financial marketing insight. Market patterns can be forecasted and predicated through deep learning algorithms. Financial institutions such as JPMorgan and Morgan Stanley are already investing in auto investment advisors with machine learning. Through digital personalization, big banks such as this provide unique and relevant research to personalize the investment needs of the customer. Through insightful recommendations, customers can look forward to AI providing investment opportunities upfront.
4. Privacy and Risk Management
One of the key dependencies of customers that use online banking is security and privacy. Customers want to feel they're secure when managing their money online. Through big data and machine learning, finance institutions can strengthen risk management strategy through the identification of solutions to identify any transactions that carry risk or are fraudulent. Other ways in which financial institutions are making use of adopting risk management AI strategy include regulatory risk analytics from historical data to analyze trends and behaviors, managing credit scoring models through neural networks and manage asset and liability challenges.
AI technologies are now paying dividends in banking and finance operations. One of the setbacks in the growth of AI in banking and finance is the security and confidentiality of personal information. Although, the popularity is increasing due to the demand for online banking services. The demand for smart enhancement is now making AI all the more important manage financial operations and should be expected to take over the financial industry rapidly.
To sum up, artificial intelligence is beginning to transform the banking and finance industries. Customers are driven to use online banking services more and more. Therefore, banking and finance are adapting through the transformation of revenue management, payment transactions, communication, and investment management. The global revenue of AI is expected to reach new heights by 2020.
Disclaimer: The author of this text, Robin Trehan, has an undergraduate degree in Economics, Masters in international business and finance and MBA in electronic business. Trehan is Senior VP at Deltec International www.deltecbank.com. The views, thoughts, and opinions expressed in this text are solely the views of the author, and not necessarily reflecting the views of Deltec International Group, its subsidiaries and/or employees.
About Deltec Bank
Headquartered in The Bahamas, Deltec is an independent financial services group that delivers bespoke solutions to meet clients' unique needs. The Deltec group of companies includes Deltec Bank & Trust Limited, Deltec Fund Services Limited, and Deltec Investment Advisers Limited, Deltec Securities Ltd. and Long Cay Captive Management.
Media Contact
Company Name: Deltec International Group
Contact Person: Media Manager
Email: Send Email
Phone: 242 302 4100
Country: Bahamas
Website: https://www.deltecbank.com/