Acute Bacterial Skin and Skin-Structure Infection (ABSSSI) Analysis, Market Size, Epidemiology, Leading Companies and Competitive Analysis By DelveInsight
DelveInsight has launched a new report on Acute Bacterial Skin and Skin-Structure Infection (ABSSSI) Market Insights, Epidemiology and Market Forecast-2030
DelveInsight's "Acute Bacterial Skin and Skin-Structure Infection (ABSSSI) Market Insights, Epidemiology, and Market Forecast-2030″ report delivers an in-depth understanding of the Acute Bacterial Skin and Skin-Structure Infection (ABSSSI), historical and forecasted epidemiology as well as the Acute Bacterial Skin and Skin-Structure Infection (ABSSSI) market trends in the United States, EU5 (Germany, Spain, Italy, France, and United Kingdom) and Japan.
ABSSSI is defined as a bacterial infection of Skin with a lesion size area of ≥75 cm2 (lesion size measured by the area of redness, oedema or induration). ABSSSIs consist of the most frequently diagnosed skin infections worldwide. The symptoms observed in ABSSSI are extensive cellulitis, wound infection, major cutaneous abscesses, and burn infections. There are several pathogens that lead to ABSSSIs, such as Methicillin sensitive Staphylococcus aureus (MSSA), Methicillin resistant Staphylococcus aureus (MRSA), Beta-hemolytic Streptococcus, Escherichia coli, Enterococcus faecalis, Pseudomonas aeruginosa, and others. ABSSSIs may be either community-acquired or hospital-acquired, and the predisposing factors include trauma, chronic cutaneous lesions, preexisting skin conditions (e.g. tinea pedis), edema due to venous insufficiency, and immunosuppression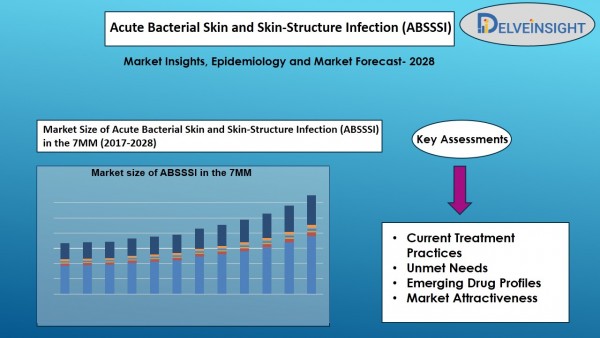 Request for:- ABSSSI free sample page
ABSSSI Epidemiology
The ABSSSI epidemiology division provide insights about historical and current ABSSSI patient pool and forecasted trend for every seven major countries. It helps to recognize the causes of current and forecasted trends by exploring numerous studies and views of key opinion leaders. This part of the DelveInsight report also provides the diagnosed patient pool and their trends along with assumptions undertaken.
Some of the Report Key facts:-
1. As per Delveinsight analysis, the total 7MM Incident cases of Acute Bacterial Skin and Skin Structure Infections (ABSSSI) in 2017 were 7,259,777, out of which the highest Incident cases of this disease were seen in the United States.
2. In United States, it is estimated that more than 15 million bacterial skin and skin structure infections occur, causing considerable morbidity
3. As per Kaye et al, a total of 1.8% of hospital admissions for the years 2005 through 2011 were for adult patients with ABSSSI primary diagnosis
Report Key Benefits
1. ABSSSI market report covers a descriptive overview and comprehensive insight of the ABSSSI epidemiology ABSSSI market in the 7 MM (United States, EU5 (Germany, Spain, France, Italy, UK) & Japan.)
2. ABSSSI market report provides insights on the current and emerging therapies.
3. ABSSSI market report offers a global historical and forecasted market covering drug outreach in 7 MM.
4. ABSSSI market report provides an edge that will help in developing business strategies by understanding trends shaping and driving the ABSSSI market.
"As per DelveInsight's estimate, there were 1,942,229 male patients and 1,406,442 female cases suffering from ABSSSI in 2017 in the United States"
Some of the key companies working on ABSSSI that are given below-
1.Cubist Pharmaceutical Company
2.Paratek Pharmaceuticals
3.Melinta Pharmaceuticals
Name of covered Drugs are given below.
1.Sivextro
2.Nuzyra
3. Baxdela
1. Key Insights
2. Executive Summary of ABSSSI
3. Competitive Intelligence Analysis for ABSSSI
4. ABSSSI: Market Overview at a Glance
5. ABSSSI: Disease Background and Overview
6. Patient Journey
7. ABSSSI Epidemiology and Patient Population
8. Treatment Algorithm, Current Treatment, and Medical Practices
9. Unmet Needs
10. Key Endpoints of ABSSSI Treatment
11. Marketed Products
12. Emerging Therapies
13. ABSSSI: Seven Major Market Analysis
14. Attribute analysis
15. 7MM: Market Outlook
16. Access and Reimbursement Overview of ABSSSI
17. KOL Views
18. Market Drivers
19. Market Barriers
20. Appendix
21. DelveInsight Capabilities
22. Disclaimer
23. About DelveInsight
Why should you buy this ABSSSI market report?
The report will help in developing business strategies by understanding trends shaping and driving the ABSSSI market
To understand the future market competition in the ABSSSI market and Insightful review of the key market drivers and barriers
Organize sales and marketing efforts by identifying the best opportunities for ABSSSI in the US, Europe (Germany, Spain, Italy, France, and the United Kingdom) and Japan
Identification of strong upcoming players in the market will help in devising strategies that will help in getting ahead of competitors
Organize sales and marketing efforts by identifying the best opportunities for ABSSSI market
To understand the future market competition in the ABSSSI market
Media Contact
Company Name: DelveInsight Business Research LLP
Contact Person: Ankit Nigam
Email: Send Email
Phone: 9193216187
Address:304 S. Jones Blvd #2432
City: Albany
State: New York
Country: United States
Website: https://www.delveinsight.com/