Andy Grammer and Marvin Matyka's Song from "Five Feet Apart" Crosses 16 Million Views on YouTube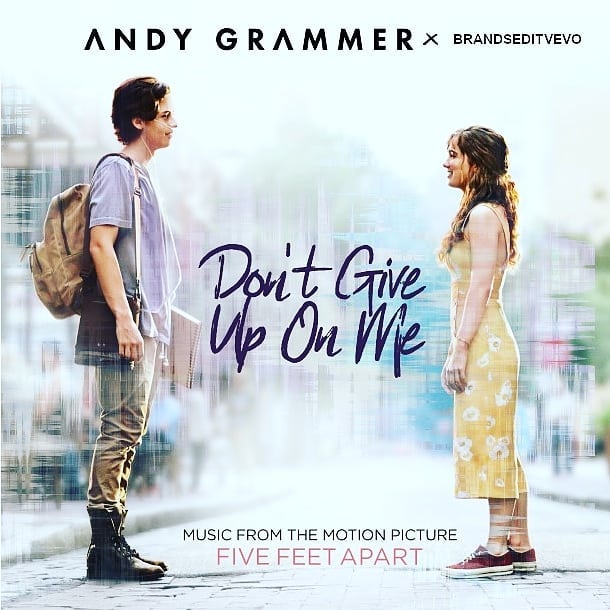 Fans of Andy Grammer will be pleased to hear that he has contributed to the soundtrack of the recently released film "Five Feet Apart". In collaboration with Marvin Matyka, Andy Grammer worked on a song called "Do Not Give Up On Me". The emotional song will be tugging on many listeners' heart strings.
Five Feet Apart revolves around two teens with cystic fibrosis that fall in love, but are advised to keep a safe distance from one another due to their health conditions. It stars Cole Sprouse and Haley Lu Richardson as the lead actors.
Andy Grammer was quite excited and thankful to have gotten the opportunity to work on the film's soundtrack. He appreciated contributing to such an outstanding film and working alongside one of his oldest and closest friends, Justin Baldoni.
"To [Justin Baldoni], from being my 1st roommate in LA, crashing on each other's couches, to now producing & directing your 1st movie, @FiveFeetApart," Andy tweeted. "I could not be more proud brotha! Having my song for a special project means the world."
"Do Not Give Up On Me" has received over 16 million views on YouTube and is continuing to amass more popularity. It perfectly captures the spirit of the film and has received much praise from fans.
Five Feet Apart did excellently in cinemas. A multitude of critics praised the lead actors for their moving performances. The film's soundtrack also received much acclaim, as both critics and audience members commended the choice of songs. It will undoubtedly be remembered as one of the emotional releases of 2019.
People who may have missed out on the chance to see it in cinemas can do so now. Five Feet Apart is now available everywhere as DVD / Blu-Ray and on demand. You can watch the video here: https://www.youtube.com/watch?v=UjnDpcgJXvA
About Andy Grammer and Marvin Matyka:
Renowned US multi-pop star and singer-songwriter Andy Grammer announces his long-awaited fourth studio album "NAÏVE" (S-Curve / BMG) on July 26, 2019. After the first single "Do not Give Up On Me" (video) produced by Marvin Matyka, the title track to the hit movie "Five Feet Apart", the new song release "My Own Hero" including a new video was recently released.
Marvin Matyka is a producer, editor and soundtrack creator. Since 2017, he is known for his work on 13 Reasons Why (Soundtracks) Paramount Television. He is also the music editor and soundtrack producer for Five Feet Apart. He also works as a series editor and assistant editor on The CW televisionseries Riverdale.
Media Contact
Contact Person: Marvin Matyka
Email: Send Email
Country: United States
Website: https://www.imdb.com/name/nm11073078/?ref_=nv_sr_1?ref_=nv_sr_1